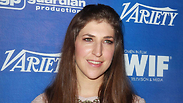 From Mayim Biliak with love
Photo: MCT
"Oh, Israel. What a month it's been for you and me," American actress Mayim Bialik wrote this week on her blog on the Kveller website.

The Jewish star of CBS's "The Bing Bang Theory," says she has lost a lot of fans in the past month because of her support for Israel, but that "it's OK. I love you more than popularity, even when you make me crazy. And even though I don't always agree with Israeli policy, I'm still a Zionist."

Show of Support

Veteran American actor accuses Spanish colleagues of 'inciting anti-Semitism all over the world' after they refer to Israel's actions in Gaza as 'genocide.'

In a post titled, "Why I wear my Jewish star," Bialik wrote that following the Israeli operation in Gaza and what she had been through in the past month, she truly understood for the first time why Jews who previously hadn't worn skullcaps started wearing them in the United States after the Yom Kippur War in 1973, "when Jews were being attacked simply for being."

Israel and me. Mayim Bialik's Zionist moment

"In the middle of the conflicts in Israel and Gaza this month, and in the middle of the virulent attacks I was coming under on social media, I put on my Magen David – my Star of David necklace – and it strangely felt like putting on armor," she wrote. "It felt like a statement. Gold armor around my neck: The way I show that I am Jewish and that I am not afraid to be so."

She went on to present a few of the Stars of David she owns and elaborated on each of them.

"I wear a Magen David because I am not too small to fight," she explained. "With the Emmys approaching, I have decided that I want to have something 'Jewish' as part of my Emmy ensemble.

"Two years ago, I wore a custom designed mezuzah to the Emmys, and this year, I think I want to incorporate a small Jewish star to one of the cuffs of the dress, even if it's not noticeable to everyone all of the time.

"I will know it's there. It will give me strength and protection and courage. Most of all, it will give me pride," she concluded.