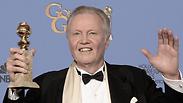 Jon Voight says Cruz and Bardem should 'hang their heads in shame'
Photo: AFP
Veteran American actor Jon Voight has rushed to defend Israel after a group of Spanish film stars, directors, musicians and writers issued an open letter referring to Israel's actions in the Gaza Strip as "genocide."

Voight directed his anger at colleagues Penélope Cruz and her husband Javier Bardem, who signed the letter, saying that they should "hang their heads in shame, come forth with deep regrets for what they did, and ask forgiveness from the suffering people in Israel."

Live Spat

UK comedian slams Fox's Sean Hannity, which he dubs 'ranty Hannity', for saying Israel's response in Gaza showed 'too much restraint.'

Voight, the father of Hollywood star Angelina Jolie and an ardent supporter of Israel, decided to respond to the scathing letter in a guest column he wrote for The Hollywood Reporter.

"My name is Jon Voight and I am more than angry, I am heartsick that people like Penélope Cruz and Javier Bardem could incite anti-Semitism all over the world and are oblivious to the damage they have caused," he wrote.

In their letter, the Spanish entertainment industry representatives called on the European Union to "condemn the bombing by land, sea and air against the Palestinian civilian population in the Gaza Strip."

They also blamed Israel for the new round of violence in the Middle East and criticized the Jewish state for "continuing to advance into and invade the Palestinian territories instead of returning to the 1967 borders."

In his response, Voight reviewed the historical circumstances of the State of Israel's establishment, which he said Cruz and Bardem were "obviously ignorant of, " including the Arab rejection of the UN Partition Plane for Palestine and the Arab countries' attack in the War of Independence, as well as the sneak attack during the Yom Kippur holiday in 1973.

He added that Israel voluntarily gave the Palestinians all of the Gaza Strip as a peace gesture. " What was the response?" he wrote. "The Palestinians elected Hamas, a terrorist organization, and they immediately began firing thousands of rockets into Israel."

According to Voight, "After years of trying to make peace, the wars they had to fight, being attacked by their enemies, and still being attacked, and finally after years of running into bomb shelters and having hundreds of civilians killed by suicide bombers, civilians being killed in their sleep, stabbed to pieces, finding enough is enough and finally retaliating, instead of my peers sticking up for the only democratic country in that region, they go and take out poison letters against them."

Even before Voight's harsh response, Penélope Cruz attempted to clarify why she had signed the letter. "I don't want to be misunderstood on this important subject. I'm not an expert on the situation and I'm aware of the complexity of it," the Spanish actress said in a statement to USA Today.

"My only wish and intention in signing that group letter is the hope that there will be peace in both Israel and Gaza. I am hopeful all parties can agree to a cease fire and there are no more innocent victims on either side of the border. I wish for unity, and peace... I believe in a civilization that can be capable of bringing the courage to have a world where humans can live side by side."