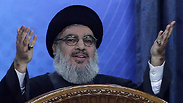 Hezbollah Secretary General Hassan Nasrallah
Photo: AFP
Hezbollah Secretary General Hassan Nasrallah slammed Islamic State (ISIS) militants currently ravaging Iraq and Syria in an unprecedented offensive that has sent the region into a tailspin.

In the second part of an interview to Al-Akhbar, the Hezbollah leader called the group and "uncontrollable monster conducting horrible massacres," and said "They have no reservations: Not ideological, not moral, not religious and not human."

According to the terror chief, the group is a "monster that has come to devour the region's people," and claimed the if Hezbollah had not participated in Syrian fighting the group would have reached Beirut.

"If someone steps up to fight this monster… should they be thanked or condemned?" he asked rhetorically, attempting to defend Hezbollah's involvement in the Syrian conflict.

"The danger in ISIS is that they don't differentiate between Shiite, Sunni, Christian, Druze, Yazid or Arab. The monster is growing and everyone should be concerned."

According to the sheikh, the Islamic State's next targets are Jordan and the Gulf states. "Wherever there is support of takfiri there is a basis (for support) for ISIS. This is in Jordan, Saudi Arabia, Kuwait and Gulf states. Any country that thinks it can use this group for its advantage will find out it has no mercy when their turn comes."

Regarding recent flare ups along the border with Israel, which saw attacks from Syria and Lebanon against the IDF near the border region in the Golan, Nasrallah said "popular resistance" was behind the attacks, and denied any direct altercations with Israel as of late.

Nonetheless, he said that Hezbollah massive presence in the Syrian conflict has "expanded its horizons, bettering its abilities in any future conflict with Israel, both offensively and defensively.
'I backed Argentina in World Cup'
In the first part of the six-hour interview, Nasrallah gave a rare glimpse into his personal life, admitting he does not use Facebook, has not traveled in a car since 1986 and supported Argentina in the World Cup final – though he claims the majority of Hezbollah supporters backed Brazil, citing the resemblance in colors (both Hezbollah and Brazil don green and yellow colors).

Contradciting reports of his whereabouts, Hezbollah's leader claimed he does not in fact live underground: "The Israelis promote a certain idea, assisted by Arab media, which says that I live in a bunker, sheltered from people. (Apparently) I don't see or talk to anyone and I'm even secluded from my brothers.

"But I do not live in a bunker. Security measures mean secrecy of movement. However, this does not totally prevent me from moving around and looking and seeing what is happening. The problem is when others see me."

Regarding the World Cup, the terror leader said "I mostly supported Brazil, but sometimes Argentina, especially when Maradona used to be with them. I liked the way he played. I saw a part of the final game, but for my son's sake and not for the game itself. Since he supported Germany, I decided to create some suspense and stood by Argentina's side.

"It was rumored that I was supporting Brazil, but I was not rooting for anyone. Among Hezbollah's supporters in general, there is support for Brazil. It's an old preference based on their nice techniques and game. Then, people started saying that the Brazilian flag is green and yellow, which are the two significant colors for Shia."