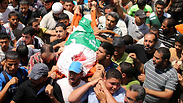 Gaza funeral of Mohammed Deif's wife and son
Photo: Reuters
Israeli Air Force operations against senior officials of both Hamas and Islamic Jihad continued Thursday, as Gaza militants ceaselessly fired rockets at Israel.

In the afternoon hours, the IAF killed an Islamic Jihad brigade commander in Rafah, as he was leaving a structure from which rockets were fired on Israel. The IDF also killed a few terror activists in the northern Strip who were preparing to launch rockets.

The terrorists were in a cemetery from which Grad rockets were fired on Ashkelon on Wednesday night.

At least 24 Palestinians were killed in IAF strikes in the Gaza Strip on Thursday, Gazan health officials said.

Three of the casualties were Islamic Jihad militants who were preparing to launch rockets at Israel from the Sheikh Radwan neighborhood of Gaza City, the IDF said, while three others were seriously wounded. The IAF attacked another terrorist in northern Gaza.

Four people were killed in Gaza City during an airstrike on a cemetery, where they were burying relatives killed earlier, AFP reported.

Six Palestinians were killed in an early morning strike on a four-story structure in the southern town of Rafah, according to Palestinian police said. The IAF also struck three terrorists in central Gaza overnight.

The IAF hit more than 40 targets across the Gaza Strip since midnight, including rocket launching posts and weapons manufacturing facilities.

Ilana Curiel and AFP contributed to this report.