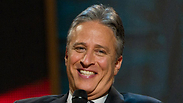 Promoting his debut film Rosewater, which is set to premier later this month, Daily Show host Jon Stewart spoke about the fighting in Gaza, why Iran thinks he's a Mossad agent, and why Israel was never an option for the film's location – despite it being set in Iran.

Speaking to the Hollywood Reporter, Stewart - born Jonathan Stuart Leibowitz – defended his comments on Gaza saying "I've made a living for 16 years criticizing certain policies that I think are not good for America. That doesn't make me anti-American. And if I do the same with Israel, that doesn't make me anti-Israel."

Daily Show on Israel

Despite the severity of the defense minister's comments about John Kerry's peace efforts, which he dubbed 'obsessive' and "messianic,' Jon Stewart manages to find humor in the row between Israel and the US

During the operation, Stewart used the Daily Show to criticize the "asymmetrical" nature of the fighting between Hamas and Israel, and poked fun at Israel's policy of warning Gazans before attacks on civilian centers – known in Israel as 'knock on the roof'.

"(Israel warns) Gaza's residents of imminent bombing with a smaller, warning bombing, an 'amuse-boom,' if you will. And then at that point, what are Gazans supposed to do?! Evacuate to where? Have you f—ing seen Gaza? Israel has blocked this border. Egypt blocked this border. What are they supposed to do? Swim for it!?" Stewart said at the time.

As the Hollywood report aptly noted the piece set off a "flurry of counterattacks" from pro-Israel hawks, some of which slammed Stewart as a self-hating Jew.

"Look, there's a lot of reasons why I hate myself — being Jewish isn't one of them," Stewart told the Reporter.

"So when someone starts throwing that around, or throwing around you're pro-terrorist, it's more just disappointing than anything else… If there is something constructive in what they're saying, hopefully I'm still open enough … to take it in and let it further inform my position. But I'm pretty impermeable to yelling. As soon as they go to, 'Your real name is Leibowitz!' that's when I change the channel."
Rosewater
Rosewater – Stewart's first film both as a director and screenwriter - tells the story of Maziar Bahari, an Iranian Canadian journalist that was arrested after the covering the controversial 2009 Iranian elections. Bahari's arrest also took place and was at least partially facilitated by his appearance on the Daily Show, and clips of the segment were reportedly used in his interrogation by Iran's Revolutionary Guard.

As can be imagined, Iran is not thrilled with the movie, which takes a very critical view of the controversial reelection of then-Iranian president Mahmoud Ahmadinejad – and has already begun to attempt to discredit Stewart.

According to the Hollywood Reporter, Iran's state-run media already has dubbed the film "anti-Iranian" and "ultra-formulaic" and says it was funded by the "Zionist lobby" which it described as Stewart's "masters," including, but not limited to the "Jewish family Pritzker."

Stewart shrugs off the comments, saying "The suggestion is that the CIA and Zionist lobby funded this… I guess I'm still waiting for the money."

When asked why Israel was never considered as a possible location, despite its recent popularity in foreign productions, Stewart responded that "You've already got a Jewish guy directing it. They're already putting out seven-minute pieces, the Iranian press, that I'm a CIA and a Mossad agent. So the last thing we want to do is add fuel to that."