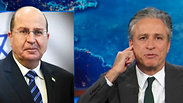 Rohani or Ya'alon? Jon Stewart dares you to find the difference
VIDEO - After Defense Minister Moshe Ya'alon called US Secrtary of State John Kerry and his peace efforts "obsessive" and "messianic" the responses were not late to come. Now, the Daily Show's Jon Stewart offers his own interpretation to the embarrassing comments.
In the video, Stewart pokes fun at Ya'alon by reading his comments as if they were said by Iranian President Hassan Rohani, an alleged confirmation at Iran's reluctance to compromise with the West. However, he quickly reveals their true author: Ya'alon.
As reported exclusively by Yediot Aharonot, Ya'alon lashed out at Kerry and his efforts to reach an agreement between Israel and the Palestinians, slamming proposed American security arrangement plan as "not worth the paper it's written on", and dismissing Kerry himself as "messianic" and obsessive." Kerry, he said in conversations behind closed doors, should just claim his Nobel Prize and leave Israel alone.
Ya'alon-Kerry Row
Analysis: After being blasted by Kerry and his team as main obstacle to framework agreement with Palestinians, frustrated defense minister had enough, but frustration is no substitute for sophisticated public diplomacy
"The American security plan presented to us is not worth the paper it's written on," Defense Minister Ya'alon said. "American Secretary of State John Kerry, who turned up here determined and acting out of misplaced obsession and messianic fervor, cannot teach me anything about the conflict with the Palestinians," he added.
Regarding the peace talks themselves, Ya'alon said "In reality, there have been no negotiations between us and the Palestinians for all these months – but rather between us and the Americans. The only thing that can 'save us' is for John Kerry to win a Nobel Prize and leave us in peace."
Ya'alon, who was IDF chief of staff from 2002-2005, at the height of the second intifada, is considered a hard-liner in the Likud. His office was quick to publish an apology a day after the story broke.
In response, Kerry said "We can't let one set of comments undermine peace efforts, and I don't intend to... I will work undeterred."