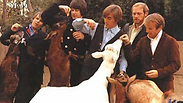 The Beach Boys. Undeterred by security situation in Israel
'Pet Sounds' album cover
The legendary Beach Boys band will arrive in Israel this winter for one performance at Tel Aviv's Nokia Arena on November 29.

Producer Gad Oron has confirmed that he recently signed a contract with the American band, which will perform in Israel without one of its founders, Brian Wilson, but with another founder, Mike Love, alongside Bruch Johnston, Tim Bonhomme, Scott Totten, Randell Kirsch, John Cowsill and Jeff Foskett.

The Beach Boys concert is expected to include the band's greatest hits. Ticket sales will begin soon, with prices starting from NIS 390 (about $109).

Veteran Performers

Veteran Canadian singer stands by his promise to return to Holy Land after IDF operation in Gaza. Tickets purchased for cancelled July concerts will be valid for new dates.

The Beach Boys band was founded in 1961 by brothers Brian, Dennis and Carl Wilson, their cousin Mike Love and their friend from school Al Jardine. Their music was pure fun and was initially based on texts inspired by surfing, sea, cars, the California beaches and women, not necessarily in that order. The tunes were catchy, the harmonies were beautiful and the band rose to fame very fast.

Their first album, "Surfin' Safari," was released in 1962, and in the following years they bombarded their fans with albums filled with hits.

In 1966, the music industry held its breath when The Beach Boys released its 11th studio album, "Pet Sounds," which redefined the worlds of rock and pop, influenced many bands and artists, including The Beatles, and is considered one of the best albums in the history of popular music.

The Beach Boys have released 29 studio albums so far (the latest one two years ago), which have sold some 350 million copies, making them the most successful American band of all times. In 1988, the band was inducted into the Rock and Roll Hall of Fame, and in 2001 it received a Grammy Lifetime Achievement Award.