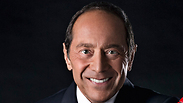 Paul Anka. He will be back
Veteran Canadian singer Paul Anka, who was forced to cancel his July 24 and July 26 concerts in Tel Aviv due to the IDF operation in Gaza and the ongoing rocket fire on Israel, will return to Israel for his fifth visit in October.

Upon announcing the cancellation on Sunday, the show's producers assured Anka's fans that "once the local situation is resolved, he will be there with the latest version of his fantastic performance."

The producers said Tuesday that the concerts would be rescheduled for October 17 and October 18 at the at the Charles Bronfman Auditorium in Tel Aviv.

Tickets purchased for the July 24 show will be valid for October 17 at 9 pm, while tickets purchased for July 26 will be valid for October 18 at 9 pm.

Ticket holders who are unable to attend the concert on the new date may turn to the Leaan ticket office at *8780 in order to change the date or receive a refund.