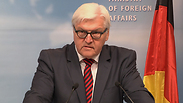 Among 350 attendees, German FM says Jewish communities should be at heart of every society (archive)
Photo: Eli Mandelbaum
Four rabbis educated in Germany were ordained in southwestern Poland in a sign of reviving Jewish life in mainly Catholic Poland, a spokesman says.

The rare ceremony Tuesday at the White Stork Synagogue in Wroclaw was held a day after the 75th anniversary of the German attack on Poland, which sparked World War II and the Holocaust that wiped out much of Europe's Jewish citizens.

Among some 350 attendees, German Foreign Minister Frank-Walter Steinmeier said that Jewish communities should be at the heart of every society and condemned anti-Semitism.

Hartmut Bomhoff, of the Abraham Geiger College in Potsdam, Germany, said Wednesday the ordination of its graduates marked 140 years since the death of Geiger, a Jewish scholar who founded Europe's first modern rabbinical seminary in Wroclaw in 1854.