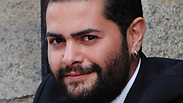 Over 500 blue and white Israeli flags dotted a solidarity rally held for Israel in Stockholm that was organized by the Zionist Federation in Sweden on August 31. Among those holding the Israeli flag, was featured speaker Mostafa Geha, a Muslim Lebanese activist and writer, who co-founded the Lebanon Israel Peace Project.

In an exclusive interview with Tazpit News Agency, Geha explains why he supports Israel and why he is involved with projects that promote peace between Israel and Lebanon.

When Geha was eight-years-old, his father, an intellectual thinker and writer on Islam, was assassinated by Hezbollah in Lebanon because of his ideas. "I cannot forget what happened to my father," Geha told Tazpit. "I was blessed with a strong mother who was able to raise me and my siblings as a single parent but the bloody experience of my family will always stay with me."



Geha too was targeted by Hezbollah terrorists two years ago on April 14, 2012 as he was leaving work. Shots were fired at his vehicle as he was driving, but he survived the assassination attempt and immediately sought asylum in Sweden, where he lives today.

He recalls that his father wrote about making peace with Israel. "Now I do the same. We must build good relations with Israel, and the Jewish people have the right to a good life without terror and wars."

"I believe that if we make peaceful relations between Israel and Lebanon, we can have an amazing region," he says.

Studying the region from a historical point of view, Geha believes that much can be learned from the past. "If we look to our history, we will see how Hiram, the King of Tyre sent building materials and men for the original construction of the Temple in Jerusalem. King Solomon and King Hiram had strong relations and I hope that we will build these relations between Lebanon and Israel once again."

Geha says that some of his friends have cut contact with him because of his opinions and views. "I can understand them – they are afraid," Geha told Tazpit. "But I also have some nice Israeli and Jewish friends that I'm proud of."

He believes that organizations like ISIS, Hezbollah and Hamas are destroying the Middle East with their ideologies and actions. "They are terrorists and don't believe in human rights and kill anyone who doesn't agree with their crazy, fanatic ideologies."

"The fight against this terrorism is the duty of moral individuals and humanitarians. It is the obligation of people who want to live in peace with each other and who wish to benefit from freedom and human liberty that everyone has a right to receive," emphasizes Geha.

"Supporting Israel is a form of standing against terrorism. Because my father was murdered by terrorists, I know exactly how people feel when they are under terror attack and that's another reason for me to stand with Israel. The daily reality is not easy for the Jewish people in the land of their fathers and they have an absolute right to defend themselves."

Geha still hopes for a better future for his country and people. "I want to see our next generation playing and studying together in friendship with Israel. I hope that Lebanon will become a liberal democratic country free of bloody ideologies."