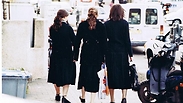 'Ultra-Orthodox women are restricted to publications approved by their rabbis'
The women, all dressed modestly in long skirts and long-sleeve blouses and with their heads covered with kerchiefs or wigs, ambled from booth to booth, offering everything from a chiropractic analysis to information on home birth to lipstick and jewelry for sale.

The first-ever Women's Health Expo for the ultra-Orthodox and religious Population, it attracted hundreds of women in Jerusalem.

Making History

If women pass exams which for decades have only been available to men, they will be able to work as kashrut supervisors on behalf of local rabbinate offices across Israel.

"After a rather tense summer because of the fighting in Gaza, and just before the Jewish holidays begin, we wanted to promote women's health and healing," Michal Finkelstein, the executive director of Yad Laem, the organization behind the expo told The Media Line.

"We wanted to offer a venue where women would feel comfortable getting the latest information on health issues including breast cancer and heart health."

The ultra-Orthodox total about 12% of Israel's population. While all Israelis receive high-quality subsidized health care from the government, ultra-Orthodox women face some unique health issues.

Most have large families (according to the Israeli Central Bureau of Statistics, the average is 7.7 children per family) and many have no access to the internet, which is seen as offering potentially dangerous secular influences. In many homes, the men study Jewish texts full-time, while the women are responsible for bringing in income.

"When you have a lot on your plate as these women do, sometimes the women forgot to take care of themselves," Finkelstein said.

Finkelstein, an RN and herself and ultra-Orthodox Jew, has written a book on post-partum depression. She said there is still a stigma against seeking psychological help for depression or any other issues.

These women also have higher rates of obesity and do not exercise enough, which is true of most Israeli women, secular and ultra-Orthodox.

At one booth, representatives from the Cardiovascular Wellness Center for Women at Hadassah Hospital were taking blood pressure and offering advice on proper nutrition and exercise.

"These women may not be doing aerobics or swimming, but they are certainly moving around and doing housework," Elisheva Leiter, a project coordinator who works in the ultra-Orthodox community, told The Media Line.

"We want to give them information they might need, such as the symptoms for a heart attack in women, which is different than in men."

She says that while secular women get much of their medical information from the internet, ultra-Orthodox women are restricted to publications approved by their rabbis.

"In some of these magazines, you can't even use the word 'breast, or 'menopause,'" Leiter said.

Sara Siemiatycki, the founder and director of Bisvilaych, which runs a women's health center, agrees. When she writes about breast cancer, she uses the term "women's cancer."

She says ultra-Orthodox women have a lower rate of breast cancer than the average (which in Israel today is 1 in 7.5 women) but die from the disease twice as often as their secular counterparts, for reasons that are still not clear.

Her organization has pushed hard for awareness of mammograms, and the rate for the test is now the same as among the secular population. Her center offers a "one-stop-shop" where a woman spends an hour and a half for tests and a long meeting with the doctor.

She says many ultra-Orthodox women have a Vitamin D deficiency since they are always covered for reasons of modesty, which can leave them feeling tired.

"We've become so specialized in our medicine that we forget there is a human being there," she told The Media Line. "We try to offer services that integrate the body and the soul."

Other booths offered more new-age techniques such as Emotional Freedom Technique (EFT), a psychological acupressure technique, or spine alignment from a chiropractor. The women, many of them toting babies, seemed to enjoy the lectures and demonstrations.

"I just came from a lecture about birth control for the ultra-Orthodox," Malki, 24, who is pregnant with her second child, told The Media Line. "I learned a lot that I didn't know before."

Some ultra-Orthodox rabbis discourage birth control, others allow it in certain circumstances.

Article written by Linda Gradstein.

Reprinted with permission from The Media Line .