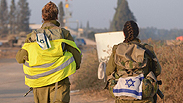 IDF soldiers at Kibbutz Zikim
Photo: Avi Rokach
On Tuesday, Noa met with Kibbutz Zikim members who wanted to thank her for preventing a terrorist attack at the kibbutz: "Noa, we are pleased to finally meet you and host you here for the first time,"

As a token of esteem to her and her fellow lookouts, and also to mark the end of Operation Protective Edge, the kibbutz hosted a special and moving event in their honor.

Noa, too, was pleased to meet her hosts, members of Kibbutz Zikim, which lies just north of the Gaza Strip: She is the Israel Defense Forces lookout who some two months ago spotted the terror cell that attempted to infiltrate Israel from the sea to carry out an attack in the area of Zikim.

Terrorists in Zikim (Video: IDF) (צילום : דובר צהל)

Related stories:

Noa and her comrades, who serve in the Israel Navy as lookouts along the Gaza border, spent the special evening hanging out with the kibbutz residents, and also met with the kibbutz children, who know all about the incident but had never met the people who foiled the attempted attack. For their part, the kibbutz residents shared their experiences during Operation Protective Edge.


The kibbutz hosted 15 Israel Navy lookouts who serve in the Zikim region and are in essence the "eyes" that keep watch over the area 24 hours a day, seven days a week. Noa, however, stood out among them and was showered with praise by the kibbutz residents, who approached her and thanked her for her watchful eyes on that critical shift.

Also in attendance were six lookouts from the Yiftah Battalion who also serve in the area and keep an eye on the border. Alongside them sat soldiers from the Nahal Brigade's Battalion 50 who are currently serving as a security force for the kibbutz.During the course of the evening, the lookouts were presented with wooden shields with a dedication as a token of gratitude for their service during Operation Protective Edge.

Kibbutz Zikim Secretary Roni Delba, who organized the event together with the kibbutz's security coordinator, Shay Weinstein, addressed the lookouts: "The State of Israel thanks you for the hard work you do day and night, but we, the residents of Zikim, say a huge and personal thank you to you, and the IDF soldiers, for protecting us and not taking your eyes off the screen.

Noa, we are pleased to meet you and host you for the first time, and to finally meet the brave soldier whose actions prevented a very grave infiltration incident. You are worthy of all the esteem; you and all the IDF soldiers."