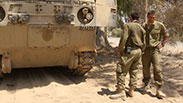 IDF troops near Gaza. For two left-wing groups, probes conducted by military won't do.
Photo: Ido Erez
Anti-Zionism is anti-Semitism
We have yet to witness a military campaign devoid of anomalies, and Operation Protective Edge was no different. Rule of law presides in Israel, and as such, even if Israel's anomalies are far smaller than those of other countries in similar situations, state has a duty to investigate them all.
For two left-wing groups, B'Tselem – The Israeli Information Center for Human Rights in the Occupied Territories and Yesh Din – Volunteers for Human Rights, the probes to be conducted by the Israel Defense Forces will not do.

And they are already preparing excuses to cooperate with the commission of inquiry set up by UN Human Rights Council, with its findings already a foregone conclusion, and with William Schabas appointed to deliver the goods. According to Yesh Din attorney Michael Sfard, the IDF investigations do not meet the necessary international standards.

I asked the spokeswoman for Yesh Din for information about investigations conducted by countries such as the United States and Britain, which Israel would do well to follow. After all, there have been an endless number of reports pertaining to war crimes on the part of both countries.

I received a vague response to the effect that Sfard was not referring to Britain and the US. Then who was he referring to? After all, these are the two Western countries that over the past decade have been more involved in wars, in Iraq and Afghanistan, than any others.

A review of how other countries act in such circumstances is therefore a worthy exercise.

In September 2003, British soldiers were accused of sadistically abusing prisoners in Basra, Iraq. They were tried. Nine soldiers were acquitted of all charges; and just one was found guilty of "inhumane conduct" and was jailed for one year.

In another incident, in 2005, US Marines forces were charged with killing 24 civilians, including women and children, in Haditha, Iraq. Following lengthy legal proceedings, just one soldier was convicted of a marginal offense. None of them served jail time. And one can go on. There are more stories of this kind.

In some cases, the prosecution was in possession of video evidence – for example, the Collateral Damage video clip, leaked by Bradley Manning, who was jailed for 35 years for passing on hundreds of thousands of classified documents to the WikiLeaks Web site. The perpetrators, Cobra helicopter pilots, walked away unscathed and free of indictments.

Do civilized countries tend to show leniency towards soldiers who commit irregular acts or even war crimes? It appears so. Aside from instances of malicious murder, one would be hard pressed to find American or British soldiers who have paid a high price for anomalies during war time.

Even the brutal torturing and subsequent death of an Afghan detainee, known as Dilawar of Yakubi, resulted in ludicrous jail terms of just two and three months.

Attorney Sfard's claim was that Israel operates differently to other civilized countries. He's right. Israel adopts a far more stringent approach than the British and Americans. But to hell with the facts. The propaganda machine will continue to churn out baseless claims.

* * *

Is Anti-Zionism also anti-Semitism? Let's check. While the recent war raged, the medical journal, The Lancet, published an open letter against Israel's alleged war crimes – another example of academics being recruited into the Hamas propaganda machine.

Two of the people behind the initiative were Dr. Paola Manduca and Dr. Swee Ang. Concurrent with the letter came an additional petition, claiming acts of slaughter, published by Israeli academics, among them members of the nomadic band of every anti-Israeli petition, like Shlomo Sand, Yehouda Shenhav, Anat Matar, Udi Adiv and Adi Ophir – good souls.

On the other side of the political map, the racist-anti-Semitic right, one finds American David Duke. The Protocols of the Elders of Zion appears amateurish in comparison to the dark plots he attributes to the Jews.

In late 2013, Duke was expelled from Italy following an attempt to set up an all-European neo-Nazi movement. As part of his smear campaign, Duke released a horror film, CNN, Goldman Sachs & the Zio Matrix, about the threat of world domination posed by Zionism.

What's interesting is the fact, as revealed by NGO Monitor, that both Manduca and Ang, from the Lancet letter, spoke highly of Duke's film and warmly recommended it – at the same time they were launching their anti-Israel initiative.

Manduca wrote: "See this video before it is removed from circulation – Please do pass on to others who you think would be interested and would pass on. The whole world needs to know." Hurry, hurry, because the Zionists may take the video down. They control the global media after all. Their control is so absolute, so much so that the anti-Semitic video still remains on YouTube.

The radical left and extreme right are divided on numerous issues. Yet when it comes to one particular issue, they are remarkably united – hatred for Israel and support for Hamas. Some would call it anti-Zionism. Its true name, unmasked, is anti-Semitism.

* * *

The New York Times ran an investigative report about research institutions that receive funding from foreign governments. These investments pay off. Instead of hiring lobbyists, they are paying researchers. And the documented findings, with their academic flavor, arrive as background papers on the desks of senior government officials. It is forbidden, we are told, to single out individuals. One must, therefore, single out the backers.

Qatar, for example, which finances Hamas and other Jihadi organizations, has undertaken to donate $14 million to the prestigious Brookings Institution. One of the studies to be conducted will deal with the relations between the United States and the Arab world. Is there any chance that the research will also deal with Qatar's funding of Jihad and terrorism?

The investigative report forgot to mention a far greater problem – donations to universities. One of the largest donations of this kind, some $20 million, is credited to Saudi Prince Alwaleed Bin Talal, and went to the Center for Muslim-Christian Understanding, founded by Prof. John Esposito, at Georgetown University.

Esposito hasn't stopped repaying the kindness. His research on the Muslim world is a mixture of sycophancy and whitewashing. Bin Talal donates generous sums to other institutions too. The Islamic Studies Program at Harvard University also bears his name.

Esposito recently signed a letter in support of an absolute academic boycott on Israel. The signatories, more than 100 members of the academe, make it clear that they will not retract their position until Israel, among other things, "respects, protects and promotes the rights of Palestinian refugees to return to their homes and properties."

In other words, they will not rest until Israel declares its own demise. Also among the signatories are Ilan Pappe, Eyal Sivan and Ariella Azoulay. One can always find Israelis to join the party.

Just to clarify matters, there is no such thing as "the right of return" in international law – and UN Resolution 194, on which they base their argument, makes no mention of it either.

To the contrary, the European Court of Human Rights, the most important in the world perhaps, rejected a demand for compensation and repatriation filed by Greeks who were expelled from the Turkish part of Cyprus.

Tens of millions who suffered deportation and uprooting in the previous century in the framework of the establishment of new nation states were not afforded the right of return. But academics have never allowed themselves to be thrown off by the facts. And it's not happening only due to Bin Talal's big money, but due to him too.