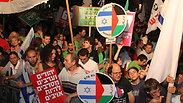 Left-wing protest. 'Not all Arabs support ISIS and not all Jews support Jewish hooligans'
Photo: Ofer Amram
Crying and wailing have spread in the left-wing camp. One could call it "the Sternhell syndrome," after the honorable professor who is occasionally recruited to tell the people of Israel and the entire world that Israel is becoming more racist and more fascist. Democracy is in danger.

Keywords such as "silencing," "extreme nationalism" and "violence" can be added to this dough, and the dish is ready.

Ineffectual Investigations

Op-ed: As long as Israel fails to conduct independent investigations into grave suspicions of violation of laws of war, only option left is that of an international commission of inquiry.

Last week, I participated in a conference organized by the New Israel Fund. I argued that we are actually headed in an opposite direction. Israel is becoming more moderate and democratic. That was a denial of the essentials of the camp that has turned the "Sternhell syndrome" into a key part of its identity.

What will they cry about if Israel is a normal, vibrant and strong democracy? Which European country will provide funding if it turns out that there is no "dangerous and racist legislation in Israel aimed at silencing people" and so on?

There is an extremely anti-democratic component in crying and wailing, because criticizing the High Court's decisions is perceived as a threat to the rule of law. Criticizing the funding of political associations by foreign countries is described as a danger to the civil society. Criticizing media bias is perceived as a threat to the freedom of expression. Every foolish bill, which has zero chances of being approved, turns into further "proof" of the imminent destruction.

The main problem is the inability to distinguish between phenomena like expressions of violence on the sidelines of left-wing protests, which do take place, or racist posts on Facebook, which do exist, and the definition of a society as fascist or racist.

These phenomena themselves are sickening. There are not only hundreds of racists in Israel, some of whom are potentially violent, but thousands. There are thousands of racists in Finland and Denmark as well. Does that make them fascist countries?

An Arab woman wearing a hijab was harassed at the National Insurance Institute, claimed a loud female speaker who aggressively dominated the panel. That's extremely serious. There are thousands of Arab women walking around with a hijab in shopping malls and markets. No one harasses them, fortunately. But isn't it great that one of those 10,000 women was attacked by a hooligan, as it provides further "proof" that Israel is a fascist country. And how dare I fail to understand that, the members of the panel complained. How do I really.

We may be sick and tired of these phenomena, but we should examine whether they have any statistical significance. The 2013 Israeli Democracy Index, sponsored by the Israel Democracy Institute, checks tendencies over time. In 2010, for example, 82.9% of Jews maintained that "decisions which are crucial for the state on issues of peace and security should be made with a Jewish majority." Clearly, this is a problematic stance.

But the interesting thing is that in 2013, only 66.67% supported this problematic stance. In other words, over time, the direction is becoming more democratic rather than less democratic.

In 2010, 65.1% identified with Israel's definition as a democratic state and as a Jewish and democratic state. In 2013, 66.2% identified with this definition. Does that point to a rise in fascism?

And there is of course the most important figure: In the latest elections, the rightist-religious bloc lost power while the centrist-leftist bloc gained power.

I can go on. There are additional figures. But who needs facts when it's so nice to talk about inflated incidents of racism? This is what is happening in the Israeli-Palestinian context. This is what is happening in the internal Israeli context. There is one outcome.

It's hard to deny the fact that at a time of conflict, like during Operation Protective Edge, tensions grow between the extremes. The rats come out of their holes. There are more expressions of violence.

There were expressions of support for ISIS on Israeli Arabs' Facebook pages, and there were sickening expressions of racism among Jews. But these are just phenomena. Not all Arabs support ISIS and not all Jews support Jewish hooligans.

That doesn't affect those suffering from the "Sternhell syndrome." After all, they have to sell to the world a thesis that Israel is deteriorating. And to hell with the facts.