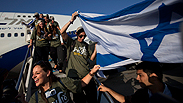 American olim arrive in Israel (archives)
Photo: AP
Some 24,800 immigrants from around the world have arrived in Israel, an increase of about 28% compared to last year, in which 19,350 people came to the country, according to data presented by the Jewish Agency and the Immigration Absorption Ministry on Monday.

In the afternoon hours, a welcoming ceremony was held at the Ben Gurion International Airport in honor of the 140 olim.

According to the statistics, there has been a sharp rise in French immigration, with the arrival of 6000 French Jews this year, compared to 2,650 French olim last year. For the first time since the founding of Israel, France has become the leading source of immigration to Israel.

The Jewish Agency and the Immigration Absorption Ministry stated that the increase stems from a rise in ant-Semitic incidents and attacks in European countries, among other reasons.

The past year also saw an increase in the number of immigrants from the former Soviet Union, mainly due to the security situation in the country. Some 4,200 olim from Ukraine arrived this year in Israel with the assistance of the Jewish Agency and the Immigration Absorption Ministry.

According to the statistics, some 570 British immigrants came to Israel in 2014, and approximately 260 immigrants came from Belgium. About 270 Italian Jews also arrived in the country. From Eastern European countries, some 270 immigrated to Israel.

Among those waiting at the airport for the new olim to arrive was Alexandra Zolodva, who was excited to be reunited with her parents and little brother, whom she has not seen since her arrival in Israel from Ukraine, a year ago. "I've been waiting for this moment for months, and now I'm counting the minutes," she said.

Zolodva, who immigrated to Israel on her own as part of the Jewish Agency's Selah (Students BeforeTheir Parents) program, was eager to connect with her family again.

The young woman, who will be joining the IDF in two months, said: "When I made the decision to immigrate, the security situation in Ukraine was better and they (her family) weren't sure that they would come, but now it's happening, and I'm very happy since this is our home."