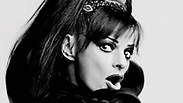 Nina Hagen. Many fans in Israel
PR photo
German singer Nina Hagen, one of the icons of punk music, will arrive in Israel this winter for one show at the Tel Aviv Performing Arts Center on December 16.

Ticket prices will range from NIS 199 (about $54) to NIS 369 ($101), depending on the location of the seat in the auditorium.

Concert Review

Pop sensation proved in her Tel Aviv performance that beneath the costumes and provocations hides an excellent singer and composer who knows exactly what she's doing.

Hagen made her breakthrough in 1978 with the successful self-titled debut album of the Nina Hagen Band. The group's second and last album, "Unbehagen," was released in 1980, and the same year she left Germany and moved to the United States.

In 1982, Hagen released her first solo album in the United States, "NunSexMonkRock," which was also her first album in English. But it was her second English-language album, "Fearless," produced by Girogio Moroder, which gained her success in the album charts and sales.

The album included the dance punk song "New York / N.Y.", which was a huge hit in the US, Europe and Israel.

Nina Hagen is considered one of the starts of new wave and post-punk music and has many fans in Israel.

This will be Hagen's second visit to Israel. She first performed in Tel Aviv in 1986, at the legendary Liquid Club. She is being bought to Israel this time by producer Moshe Yosef.