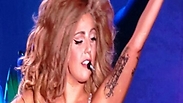 Lady Gaga in Israel. The final stamp on the end of Operation Protective Edge
Photo: Stelli Solomonov
At the end of the day, the really important thing in Lady Gaga's performance at Tel Aviv's Yarkon Park on Saturday night was its mere existence.

After many months of uncertainty over whether it would actually take place, the audience which flocked to the park would say that the concert was the final stamp on the end of Operation Protective Edge, which gave us the most shocking summer we have had in years.

Lady Gaga on stage (Video: Stelli Solomonov) (צילום: סטלי סולומונוב)

But Gaga did not settle for just coming here. She also showered us with every compliment possible. She told us that she loves Tel Aviv and Israel (in Hebrew, of course) and how amazing the audience is here, and how fun it is to be here. One could even have believed her when she said that she had simply missed us.

Undercover

After ultra-Orthodox cry 'immodesty,' posters promoting pop sensation's Israel concert convered up; Shas representative justifies move, saying 'thousands of haredim children pass by site daily.'

As for the show itself, at first the whole was greater than the sum of its parts. Disappointingly, Gaga's ArtRave stage in Israel did not include the catwalk which winds around the arena floor and enables to artist to interact with the audience.

Nonetheless, the show was impressive and developed with time. It was almost impossible the count the number of outfits and wigs Gaga changed on stage, along with 15 excellent dancers who didn't rest for a minute.

Despite the absence of the catwalk, at times it seemed like an artistic show taken from New York's Fashion Week in an atmosphere of underwater life (and a variety of octopuses and walruses appearing in different forms) rather than a pop concert. But actually, when it comes to Gaga, it all fits together.

As for the music, we could reiterate what we said about the lady five years ago, during her previous visit to Israel, only much stronger. It's great and wonderful that she has an image and a look and costumes, but the girl also delivers the goods as a real artist.

An excellent group of rock musicians and her remarkable virtuous abilities on the piano proved once again (for those of us who have forgotten) that she is an excellent singer and composer who knows exactly what she's doing even beneath her costume.

The show began with Gaga's current hits, "G.U.Y." and "Venus," after which we delved into a variety of hits from the past few years, especially those which were released after her previous visit.

Two of these hits summarize everything that happened on stage Saturday evening: On the one hand, the excellent and well-produced performance of "Bad Romance," her greatest hit, which received an a la Nicki Minaj version with a serious wink at the entire pop industry. And on the other hand, "Born This Way," which she performed on the piano, giving it an almost new meaning.

And again, it was so beautiful to see Gaga sitting at the piano, playing so well and giving us all the feeling that she's looking into our eyes. She accompanied the performance with a speech encouraging each and every one of us to be who they are without giving a damn about what the world says – a mantra Gaga has sanctified since the day she was born.

An impressive and important moment during the show was when Gaga hosted Tony Bennett on stage. Bennett, who will perform in Tel Aviv on Sunday, is releasing his joint album with Gaga, "Cheek to Cheek," this very week. The song the two performed on the Tel Aviv stage was introduced by Arthur Fogel, CEO of the Global Touring division of Live Nation Entertainment.

The decision to end the show with "Gypsy" was a bit weird. The particularly long break Gaga took before the encore was even weirder, causing many in the audience to think the show had ended.

But at the end of the show, one can definitely say that Gaga completely devoted herself to the Israeli audience and left Yarkon Park hungry for more.

After Gaga's previous performance in Israel, which took place five years ago several meters away from Yarkon Park, in front of several thousand people and before she was who she is today, I wrote that I would like to see what becomes of her and that I would be glad to see her come back to us when she grows up.

That happened Saturday night, and we indeed received a much more mature and successful Gaga, who manages to find the balance between provocations and music, between art and pop.