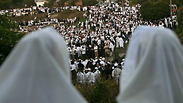 Women unwelcome in Uman
Photo: Reuters
The Breslov Hasidic group has asked women not to visit Rabbi Nachman of Breslov's grave in Uman, Ukraine, claiming that their presence may damage the sacredness of the prayers said by male worshippers at the site.

A statement issued by the association of Breslov rabbis and influential leaders and the "Uman Holiness Guard" defined the recent increase in the number of women travelling to Uman before the Jewish New Year as a "huge spiritual interruption."

Exclusion of Women

Jerusalem faction led by Rabbi Shmuel Auerbach demands that there will be no female soldiers at centers yeshiva students are asked to report to in order to receive exemption from military service.

According to the group, the women's presence at the site could affect the spiritual elevation of the grave's visitors.

The unusual statement was issued following a wedding held near the gravesite on the eve of Rosh Hashana last year, which was attended by dozens of women.

In their request, which was addressed both to men and to women, the rabbis and activists are referring to the problematic infrastructure and crowdedness on the roads leading to the grave, which make it impossible to create separate paths for men and women.

"While in previous years women wouldn't dare show up on the streets and would hide in their homes and corners throughout the days of the visit, recently, after getting used to coming there, they have dared to breach additional fences and have brought us to a situation in which all walls and fences have been completely breached, and no one has said a thing," the letter reads.

The group fears that the increasing number of women will eventually surpass the number of men, causing men and women to mix.

Men running into women at the gravesite have been asked to pleasantly explain to them the severity of the problem. "However," the letter states, "in case of a counter-reaction, it must be made clear to them that they are breaching a fence and failing the many worshippers."