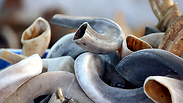 Great Shofar Blowout has been in works for past eight years (illustration)
Photo: Tal Cohen
A total of 1,043 people got together Sunday in the parking lot of the Alex Aidekman Family Jewish Community Campus in Whippany, New Jersey to simultaneously blow their shofars.

The shofar, carved out of kosher animal horns, is played traditionally during Jewish High Holiday services, notably Rosh Hashana and Yom Kippur.

Shana Tova!

In honor of Jewish New Year, JN1 visits one of only three shofar factories in world to discover how kosher ram's horn is created

After five straight minutes, the participants congratulated one another for making history as the world's largest shofar ensemble in the world, shattering the previous record set in 2006 when 796 horns were blown in unison at a beach in Swampscott, Massachusetts, and making the Guinness Book of World Records.

Called the Great Shofar Blowout, the event was presented by the Partnership for Jewish Learning and Life, and has reportedly been in the works for the past eight years.

"Our mission is to bring Jewish learning to life so we do a lot of things experientially," said Executive Director Robert Lichtman, reports NJ.com. "I was talking with a colleague in northern Massachusetts who does similar things and she said, 'We had this great program where we created a new Guinness World Record for blowing shofar,' and I said, 'Wow. That is such a great idea.'

"It mobilizes people. It inspires people and gives them a goal to shoot for and all along the way they're learning about this unbelievable act of blowing shofar."

Despite the gloomy autumn weather, participants shouted and celebrated their glorious victory following the event, lifting their instruments in unison before a wave of thunderous applause.

Reprinted with permission from Shalom Life .