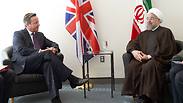 British Prime Minister David Cameron with Iran's President Hassan Rouhani
Photo: Reuters
British Prime Minister David Cameron sought to win cooperation from Iran's President Hassan Rouhani against jihadists in Syria on Wednesday in the first meeting between the countries' leaders in 35 years.
Later, Cameron also said he would ask Parliament to approve joining international airstrikes against the Islamic State group in Iraq, he announced the move Wednesday night in his address to the UN General Assembly.
Cameron did not mention the prospect of also joining the US-led international airstrikes Cameron, but said, "We have a need to act in our own national interest to protect our people."
Related stories:
He also says Iran could help in defeating the Islamic State threat. Cameron met with Iran's president Wednesday, the first such meeting since the Iranian revolution in 1979.
A Downing Street spokesman said Cameron and Rouhani agreed that "all states in the region must do more to cut off support for all terrorist groups, including financial support" but stopped short of announcing any firmer cooperation.
"The prime minister and president noted the threat posed to the whole region by ISIL," said the British spokesman, using the acronym for the former Islamic State of Iraq and the Levant, since renamed the Islamic State (IS) group.
Rouhani posted two photographs of himself with Cameron and wrote on Twitter: "One hour of constructive and pragmatic dialogue, new outlook."
"First meeting between UK and Iran heads of state in 35 years," he wrote. Cameron is head of the British government. Queen Elizabeth II is head of state.
Rouhani said Monday that the people in the region were "defending themselves... against the terrorists" and that Iran would help.
Tehran, which usually rails against any US presence in the Middle East, has been unusually accepting of the US action in Iraq, where it is also tackling IS.
But it is a also strong backer of the Syrian regime, which is fighting other rebel groups, some of them US-backed, all of which it regards as "terrorists".
Cameron welcomed Iran's support for the new government in Iraq and its efforts towards a more inclusive governance.
"He argued that a similar approach was needed in Syria, to promote a transition to a new government capable of representing all Syrians," the Downing Street spokesman said.
Downing Street said Cameron and Rouhani agreed to work to improve relations, which would help build mutual trust and agreed it was "vital to seize the opportunity of securing a comprehensive agreement" on Iran's nuclear program.
The Associated Press and AFP contributed to this report.