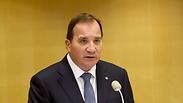 Sweden Prime Minister Stefan Lofven
Photo: Reuters
Sweden's ambassador to Israel has been summoned for a reprimand meeting on Monday at the Foreign Ministry in Jerusalem, after Swedish Prime Minister Stefan Lofven announced on Friday his intention to recognize Palestine.

Foreign Minister Avigdor Lieberman said Saturday night that Lofven's announcement was unfortunate as he "likely has yet to have enough time to delve into matters and understand that the side which has been a spoiler for the past 20 years to advancing an agreement between Israel and the Palestinians – is the Palestinians."

Lieberman said that the "Swedish Prime Minister Lofven needs to understand that no declaration and no step by an outside player can replace the direct negotiations between the sides and a solution that will be part of a comprehensive agreement between Israel and the entire Arab world."

He added: "If the Swedish prime minister's inauguration speech is concerned with the situation in the Middle East, he would be better off focusing on the urgent problems in the area, like the daily mass killings in Syria, Iraq, and other places in the region."

Officials in Jerusalem are concerned by the Swedish declaration for a number of reasons – Sweden is the first major European country, party to the European Union, which has chosen to recognize Palestine as a state.

Sweden is essentially a signal from the heart of the European Union's founding membership that recognition of Palestine is increasing.

Some European countries had previously recognized Palestine in their iteration as communist nations – when they were ordered to by the Soviet Union. Those countries include Poland, Hungary, Slovakia, and Bulgaria, which recognized Palestine's national aspirations before joining the European Union.

Malta and Cyprus have also recognized Palestine, but they are marginal powers compared to the influential Sweden.

"We are not talking about a diplomatic dwarf, but a serious and important European state. This signifies an unwelcome trend which should worry Israel," said a senior political source. Jerusalem is concerned that other European nations will follow Sweden and declare their intention to recognize a Palestinian state.

Israeli officials claimed that the Swedish declaration was intended for domestic political consumption, as more than 6 percent of the local population was Muslim; many in that demographic voted for the Social Democratic Party currently in power.

"This may be a symbolic step, but it definitely represents a signal for the future. It should greatly concern Israel even if it doesn't have any immediate practical significance – aside from upgrading the Palestinian delegation in Stockholm to an embassy and automatic Swedish support in accepting Palestine to international organizations," added an Israeli political source.

Recently, Danish Foreign Minister Martin Lidegaard threatened Israel with sanctions if it did not reach an agreement with Hamas, lift its blockade of Gaza, and end construction in settlement blocs. Israel responded to his comments, saying the Danish minister "was wrong and does not understand the situation."

Attila Somfalvi contributed to this report.