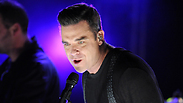 Robbie Williams in concert
Photo: Gettyimages
Robbie Williams, one of the world's biggest pop stars, is expected to arrive in Israel for the first time in the spring of 2015. Pending any last-minute surprises, the British singer will perform at Tel Aviv's Yarkon Park or at the Ramat Gan Stadium in early May.

As first reported by Yedioth Ahronoth, Williams held advance talks with several agents in Israel and has now reached an agreement about the show. He is expected to sign a contract with producer Gad Oron or with Guy Besser and Shay Mor Yosef of BlueStone Productions in the coming days.

With an amazing number of hits and after selling close to 80 million albums and singles worldwide, 40-year-old Williams is known as a great performer.

Vintage Rock

The veteran rockers gave a performance in Yarkon Park that was thrilling, slick and unforgettable.

The Stoke-born singer began his career at the age of 16 with British boy band Take That, which became a huge success around the world. In 1996, he left the group and launched his solo career. A year later he released his first album and quickly rose to fame. He began cooperating with songwriter Guy Chambers, and the two released one hit after another.

Williams' iconic song "Millennium" from the album "I've Been Expecting You" was released in September 1998 and topped the charts around the world.

His next albums were hugely successful too with hits like "No Regret," "Angels," "Feel," "Rock DJ" and "Somethin' Stupid," which he performed with actress Nicole Kidman.

His career went into somewhat of a decline in the late 2000s as he battled with addiction. But after rejoining Take That for a few years, he released a new album in 2012 and launched a highly successful world tour.