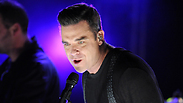 Robbie Williams
Photo: Gettyimages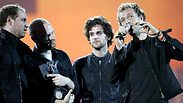 The musical summer which has brought majors stars like The Rolling Stones and Justin Timberlake to Israel is far from being over, and it appears that we still have a lot to look forward to next year.

Yedioth Ahronoth learned that British rock band Coldplay and singer Robbie Williams are holding advanced talks to perform in the Holy Land next summer.

But that's not all: The Australian princess of pop, Kylie Minogue, is expected to land in Israel in November.

The three have all received several proposals from different Israeli producers. Minogue, 46, will likely give at least one show at Tel Aviv's Nokia Arena, while four different producers are competing for the right to bring 40-year-old Williams to Israel.

After failed attempts to get Coldplay to perform in the country in the past, the band's representatives have already promised that they will try to secure a date for a concert in Israel as part of the 2015 tour for the new album "Ghost Stories."