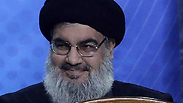 Hassan Nasrallah
Photo: AFP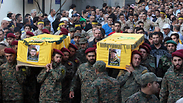 Funeral of Hezbollah fighters killed by IS
Hezbollah, the Lebanon-based Iranian proxy, no longer has the military capabilities to fight both Israel and Syrian rebel groups threatening Assad's regime and Lebanon's borders, a top researcher for the Carnegie Middle East Center claimed.

According to Mario Abou Zeid, Hezbollah is using its military prowess firstly against the Nusra Front, an al-Qaeda-spawned group now in control of the Quneitra area, and only secondly against Israel.




Although many argue the Shiite terror group has become battle-hardened through its participation in the Syrian civil war, Abou Zeid thinks otherwise: "Hezbollah is in its weakest position in years as all of its resources are being exhausted by the conflict in Syria, where it has been fighting alongside the regime forces for three years."

Last week a blast along Israel's border with Lebanon wounded two soldiers and was later claimed by Hezbollah as a message for the alleged assassination of its operatives by Israel.

"(Last week's attack) is a statement that Hezbollah is aware of their strategy and is ready to strike back," he told The Media Line from Beirut.

It is considered to be the boldest assault against Israel since the 42-day hostilities between Israel and the Lebanese terrorist group (as designated by the US State Department) in 2006 - referred to in Israel as the Second Lebanon War.

Known for not claiming immediate responsibility, this time Hezbollah was swift in admitting it was behind the blast in the contested Sheba Farms area.

During Israel's battle with Hamas in the Gaza Strip last summer, some Palestinians took to the streets in marches chanting for Hezbollah leader Hassan Nasrallah to strike at Tel Aviv in retaliation for Israeli airstrikes and ground operation that left more than 2,000 Palestinians dead, many of whom were civilians. But Nasrallah declined to enter the fray.




Palestinian military analyst Wasef Uraiqat, former artillery commander who served in Beirut as part of a joint guerilla force that fought Israel comprised of PLO-Fatah and the National Lebanese Parties, alleges that Israel tried to get Hezbollah to fight alongside Hamas as a ploy to gain world sympathy for having to fight on two fronts, but failed.

Uraiqat argues that in hitting the Israeli side of the border, Hezbollah wanted to prove to Israel and to the others - including Lebanon - that its main fight was not Syria, but against Israel.

"Hezbollah is challenging Israel and saying, 'We are still alive, we are strong, we are not scared of you and we can fight now,'" Uraiqat said.

Hezbollah did not directly give a motive for the attack, but did say that it had been carried out by a unit named after "Hassan Ali Haidar, the martyr," a Hezbollah operative who was killed last month, presumably by Israeli forces.

But Saady Rjoub, a Palestinian expert on Israel, says neither Israel nor Hezbollah are interested in seeing an escalation. He says Israel's response was practical and exact.

"This period, Israel does not want confrontation because it came out of the Gaza war tired," he told The Media Line.

He thinks that is the reason that prompted Israel to sign-on to an Egyptian-mediated cease fire with Hamas. Rjoub says the economy of the Israeli government cannot withstand another war.

As for Hezbollah, he says it is too busy with the Syrian conflict. "I don't think there will be an expansion on the Israeli-Lebanese front because the two sides (Hezbollah, Israel) are not interested," Rjoub said.
Fight of their life
Abou Zeid believes the latest battle near the Hezbollah checkpoint on the outskirts of Britel, in which Nusra Front fighters killed ten of its gunmen, confiscated the Shiite group's weapons, and then withdrew, created severe pressure. It was one of the deadliest battles fought between the Shiite group and Syrian rebels, its intensity marked by the use of mortars and rocket-propelled grenades.




"It is the first time that the myth of invincibility of Hezbollah on Lebanese soil was put to the test and the Nusra front succeeded," Abou Zeid said adding that Hezbollah has entered a phase of desperation and a shortage of men. "The age of its current recruits is from 14 to 18 years of age," he said.

On the other hand, Abou Zeid says Hezbollah is "doing great politically and has the upper hand in Lebanese politics and turns any military weakness into a political strength and victory."




Abou Zeid says the Iranian regime is facing its own pressures due to its nuclear program. By having economic sanctions imposed on them, it has affected Iran's ability to financially support Hezbollah.

"That is why it became an integral part of Hezbollah's strategy to be part of the political institutions to keep providing the same services for its community and interest groups, that were once funded by Iranian money, through the Lebanese institutions and ministries," he said.

Despite the shortage of funding, Iran's support for Hezbollah remains steady.

Hezbollah's Secretary-General Hasan Nasrallah said in a recent speech that his group is against any vengeful acts taken against innocent civilians, whether Lebanese or Syrians. He has also said he is against the US- led coalition strike against ISIS in Syria.

"What is happening here (Beirut) is dangerous, we have to keep an eye on it," Abou Zeid said.
Palestinian-Hezbollah rift
Meanwhile, Palestinian parliament political committee chairman Abdullah Abdullah is adamant that the PA does not interfere with internal Lebanese politics. "We have too much on our plate," he says.

Abdullah says the Abbas administration is monitoring the situation of its 400,000 Palestinians in Lebanon and is keeping a close eye on the developments in the region, namely when Israel is attacked by an old adversary. "We cannot judge the tactics of Hezbollah or their strategies but it's in our interests to have a neutral position with all forces in Lebanon," he told The Media Line.

"Hezbollah was a part of the Palestinian resistance when the Palestine Liberation Organization (PLO) was in Lebanon in the 1970's. They were trained by our national movement," Abdullah said.

The PLO left Lebanon in 1982 and that, according to Abdullah, "is when Hezbollah developed its own policy, strategy, allies and alliances."

Article written by Abdullah H. Erakat

Reprinted with permission from The Media Line