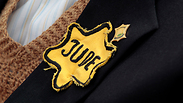 'I always felt something missing in my life' (illustration)
Photo: Reuters
Henry Friedman never got his chance to graduate from high school.

The now 86-year-old Mercer Island resident was born and raised in Poland circa 1930, and was deprived of the opportunity when the Nazis came to power and sent the majority of the country's Jews to concentration camps.

He and his family were able to survive due to a Christian family who provided them with shelter.

However, thanks to Seattle's Kent School District, where Friedman has been volunteering for over the past two decades, the Holocaust survivor was finally able to receive his diploma last week with an honorary diploma from the District's high school.

Better Late Than Never

Decades after surviving Holocaust, five men and seven women mark their coming of age in Haifa ceremony. 'At the age of 13 I was in Auschwitz,' one of them says. 'There wasn't really anyone to talk to about celebrations.'

For Friedman, and his family, it is an emotional, unforgettable experience.

"I always felt something missing in my life, especially when I went to my children's graduations," Friedman told KING 5 News. "I don't have the words in my vocabulary to describe what it really feels like."

Chief of Communications for the Kent School District, Chris Loftis, said they were honored to present Friedman with the diploma.

"How many hundreds and hundreds of students have heard his story and have been inspired by that story," Loftis said. "Education is more than reading, writing and arithmetic. Education is about learning about the community of humanity. Henry Friedman is one of the best instructors we could possibly have in that community."

Friedman is a frequent public speaker at schools around his area, where he shares his Holocaust story, and what it was like to hide in a barn for a period of 18 months.

He says he is one of less than 100 Jews from his town, which had a population of 10,000 Jews, to survive the Shoah.

"We had properties in Europe. Most of it was lost. We had money. Most of that was lost. But I was able to carry through borders whatever teachers had put through my head," he said to a freshman history class at Kent Mountain View Academy. "Nobody can take that away from you."

Reprinted with permission from Shalom Life .