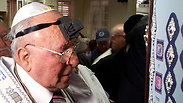 Avraham Ekron during ceremony
Twelve Holocaust survivors, five men and seven women, celebrated a joint bar mitzvah and bat mitzvah ceremony in Haifa last week, which they were unable to mark during their youth.

The participants put on phylacteries and covered themselves with prayer shawls. The audience threw candy at them and joined the singing and dancing.

Never Too Late

Mariusz Robert Aoflko, who grew up thinking he was Catholic, marks his coming of age at Western Wall 13 years after discovering his Jewish roots

"At the age of 13 I was in Auschwitz," one of them said. "There wasn't really anyone to talk to about celebrations."

Mordechai (Motke) and Esther (Esti) Liber, who went through the war in different areas, met in an orphanage in Lublin, Poland after the war.

"At the age of nine I was already alone. We were deprived of our childhood," said Mordechai. "I survived alone in the world, and I am excited by this event because I couldn't celebrate in real time, and I didn't have parents anymore to consider a celebration.

"Before all my family members were murdered in the woods, my mother kneeled down towards me and told me in Yiddish, 'Motke, run to the forest and tell everyone what happened here.'"

His wife Esti added, "He was the naughtiest boy in the house, and the mother knew that if someone had a chance of surviving it was him.

"I was at a different area in Poland at the time, in Galicia. I was with the family in the woods, and one day when we lit a bonfire, the Germans saw us and started shooting. I managed to escape with my older sister, who was wounded by the gunshots.

"We survived because she would go ask for bread from a Christian woman who lived in the area. Every time she would ask for more bread for me, but the Christian woman thought she was lying and just wanted more bread, so she kept telling her: 'Bring your little sister and let us see her.' When she finally brought me, the woman burst into tears. I was skin and bones."

Like her husband and the ceremony's other participants, Esti didn't celebrate her bat mitzvah either. "At the age of 12 I was already in Israel, at a Youth Aliyah institution in Jerusalem. I knew the date, but no one there celebrated for us. There may have been no time, or perhaps they thought girls don't have to celebrate."

Avraham Ekron, who was born in Ukraine, was 12 years old when the Germans invaded his country. He stayed at the Debrecen Ghetto, and ahead of his 13th birthday he was put on the train to Auschwitz along with his family members.

"My grandfather and grandmother died during the journey. I arrived and went through Mengele's selection. I worked carrying stones and concrete, until one day they pushed me off the scaffolding because I didn't bring the things fast enough. That's how I spent my 13th birthday too. I don't think I remembered the date, but who had the time to think about a bar mitzvah? I barely managed to survive until the Russians arrived and liberated us."

His wife Sara, his daughter and one of his grandsons participated in the ceremony as well and expressed their joy over the celebration. "He is very excited by this event. Every time he started talking about the bar mitzvah, he trembled from all the excitement," said his daughter, Cheli.

The event, which was attended by dozens of other survivors, relatives and representatives of aid organizations, was initiated by the Yad Ezer La'Haver ("helping hand to a friend") association, which operates a hostel and helps Holocaust survivors.

"I have organized similar events in the past, but this is the most moving one," said the association's CEO, Shimon Sabag. "First of all because of the date – International Holocaust Remembrance Day, because there are so many bar mitzvah boys and girls, and also seeing those people who approached the rabbi here and asked him to mention their siblings too, who died and did not get to celebrate their coming of age."