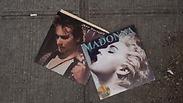 Madonna and Jeff Jeff Buckley in 'Mayokero'
David Bowie, Simon and Garfunkel, The Beatles, Madonna, Prince, a young Aretha Franklin and many other music legends are featured in a new clip created by Israeli performer Roy Kafri and director Vania Heymann.

The video, "Mayokero," was shot on the sidewalks of New York City, where the two have been working recently. It shows a variety of classic vinyl album covers thrown on the ground which come to life and start singing the track in the background.

Watch the clip and its amusing ending:

The a-cappella song in the video is performed by Kafri. Heymann, a commercial and music video director known for his unique style, was in charge of the direction and editing. Heymann also directed the interactive clip for Bob Dylan's "Like a Rolling Stone," which was selected by TIME magazine as the best music video for 2013.

The new clip, which brings to mind the 2006 Battle of the Album Covers created by Man vs. Magnet, is not the first cooperation between Kafri and Heymann. The two worked together on several commercial projects, including a soft drink ad and a commercial for a cellular app starring Israeli supermodel Bar Refaeli.