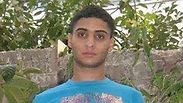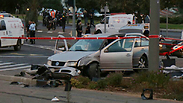 Suspect reportedly shot by police
Photo: Hillel Meir, Tazpit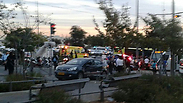 Terror returns to Jerusalem: A 3-month-old baby girl was killed and seven other people were wounded Wednesday evening when a Palestinian plowed his car into a crowd of people waiting at the Ammunition Hill station of Jerusalem's Light Rail.
The driver - Abed a-Rahman a-Shaludi, a resident of the village of Silwad with a record of security related offenses - attempted to flee the scene on foot, but was shot by police. He sustained chest wounds and succumbed to his wounds late Wednesday evening after being taken to a Jerusalem hospital in serious condition.
Watch: Car veers into train station

Police spokesman Micky Rosenfeld said the car struck the train station near the national headquarters of the police force.
He said police were investigating but all signs pointed to an intentional attack. "There is a strong possibility that it was a terror attack," he said.
Prime Minister Benjamin Netanyahu lashed out at Palestinian President Mahmoud Abbas in wake of the attack, saying: "This is how Abu Mazen (Abbas') partners in government work," Netanyau said, referring to the Palestinian unity government comprising Hamas and Fatah that Israel has consistenly opposed. "This is the same Abbas that only a few days ago called for harming Jews in Jerusalem."
Interior Security Minister Yitzhak Aharonovich, who arrived at the scene, also said that, "all signs indicate this is a terror attack." He further said that the driver had served time in prison before. He praised the police for their quick response.
"This is not an intifada," Aharonovich said, noting that he had spoken with Prime Minister Benjamin Netanyahu and that the police and the Shin Bet internal security service were investigating.
Two men in their 20s also were taken to Hadassah Medical Center on Mount Scopus with light wounds. Hadassah at Ein Kerem took in three wounded women, one in serious condition and two lightly hurt.
According to MDA paramedics at 5:54 pm they received a report saying that a car hit a number of pedestrians near the Ammunition Hill station.
Police arrest suspect
A paramedic at the scene told Ynet that the baby's mother "brought her to me with a serious head wound. She told me that the car hit the stroller and she was hysterical. The baby was unconscious."
"She is a pure baby girl who hasn't done anything bad to anyone," Shimshon Halperin, the girl's grandfather, said. "She was murdered for no reason."
In wake of the event, the Light Rail company said in a statement that a patrial service was running between the Mount Herzl and Damascus Gate and Givat HaMivtar stations.
This is not the first time the capital has seen such attacks, and recent weeks have seen a number incidents on the train.
On October 12, the Jerusalem Light Rail came under a hail of stones in five separate attacks. All of the incidents took place in the train's East Jerusalem stations, near Shuafat, highlighting the perils the rapid transit system faces in the Palestinian parts of the city.
The recent two months have seen a rise in the number of attacks on the train, especially in the Palestinian parts of the city. Those using the Light Rail for their daily commute say incidents in the Shuafat and Beit Hanina stations have become routine.
Microcosm of a city divided
From symbol of coexistence to ghost train, the capital's Jewish residents prefer to disembark before the rails reach East Jerusalem, with its stonings and firebombings.
In August, a pedestrian was killed and six other people were wounded when a terrorist went on the rampage in an industrial digger in central Jerusalem.
On July 22, three weeks after the previous Jerusalem bulldozer attack, another tractor driver went on a rampage on the capital's King David Street on Tuesday afternoon. The police reported that the terrorist was shot dead and that at least 18 people were injured in the incident.
On July 2, three women were killed and at least 30 more people were injured when a bulldozer driven by a Palestinian resident of east Jerusalem trampled over pedestrians and vehicles and plowed into two buses in downtown Jerusalem.
The driver, who reportedly had a criminal record and was the holder of an Israeli (blue) identification card, was shot dead by a SWAT officer near the old Shaare Zedek Medical Center.