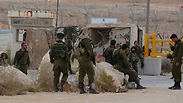 Site of shooting
Photo: Herzl Yoseph
The IDF believes that a shooting incident Wednesday afternoon on Israel's border with Sinai that left two soldiers wounded was crossfire from a drug smuggling attempt that went wrong.
The initial investigation, carried out in conjunction with the Egyptian army, indicates that a company commander from the Caracal Battalion went to the scene after spotting suspicious figures on the Egyptian side of the border, close to the security fence. When the commander, Captain Or Ben Yehuda, arrived at the site with a communications soldier, the smugglers opened fire at her from three different locations.
Ben Yehuda returned fire, even managing to empty her magazine despite the incoming gunfire and sustaining wounds to her upper body. The smugglers also fired an anti-tank missile at the two troops.
Egyptian security forces had initially told an Egyptian news outlet that Qaeda-linked jihadist group Ansar Bait al-Maqdis was behind the attack.
The wounded soldiers were evacuated by air to the Soroka Medical Center in Be'er Sheva. The officer was in moderate condition and the male soldier in moderate to serious condition.
The Israeli-Egypt border has a high fence and advanced observation tools. The entire area is mountainous and includes lookout points. There are also patrols guarding the border.
The Egyptian military has been operating in the Sinai Peninsula in the past few weeks in order to thwart Ansar Bait al-Maqdis' attacks. The al-Qaeda-affiliated organization supports the Islamic State and tries to imitate it.
Earlier this week, an explosive device was set off against an armored Egyptian army vehicle in the Al-Arish area in Sinai. Its shrapnel hit 7 Egyptian soldiers.