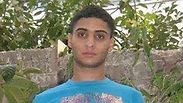 Terrorists behind J'lem attack - Abed a-Rahman a-Shaludi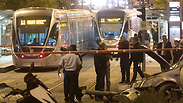 Scene of Jerusalem attack
Photo: AFP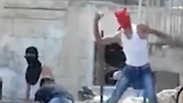 Palestinians riot in East Jerusalem (Archive)
Violence rocked Jerusalem on Wednesday both before and after a deadly terror attack at a Light Rail station left a baby girl dead, with riots and stone throwing reported in East Jerusalem. The attack and riots have highlighter the police's struggle to deal with what some are calling a 'quiet intifada'.
A man was lightly wounded after Palestinians pelted his car with stones near Beit Hanina in East Jerusalem. Damage was also caused to the vehicle, and police were searching the area for suspects.
Dozens of Palestinians, some masked, rioted in Isawiya and Silwan in East Jerusalem, with some throwing stones at police, who attempted to subdue the riot. No injuries were reported but residents of the Mount Scopus area reported breathing issues as tear gas from the riots reached the area.
Meanwhile, scores of young religious Jews flocked to the scene of Wednesday's deadly terror attack and held a makeshift vigil for the baby girl who was killed in the attack. The youths waved Israeli flags and sang religious songs.
The incident took place after Abed a-Rahman a-Shaludi, 20, a resident of the West Bank, drove his car into a group of Israelis waiting at the Ammunition Hill station of Jerusalem's Light Rail.
Throughout the day, both before and after the terror attack, stone throwing continued throughout the capital: In the early afternoon, a 13-year-old Palestinian pelted a car in the a-Tur neighborhood of the city with stones, causing damage to the car. Earlier, five teens aged 15-16 were arrested for throwing stones on a central road in Jerusalem.
On Tuesday night, the police arrested three Palestinian teens from Beit Hanina for their role in yet another stone throwing incident which took place that day.
Recent weeks have also seen a number incidents on the train: Just two weeks ago, the Jerusalem Light Rail came under a hail of stones in five separate attacks in a single evening. All of the incidents took place in the train's East Jerusalem stations, near Shuafat, highlighting the perils the rapid transit system faces in the Palestinian parts of the city.
Jerusalem Light Rail
From symbol of coexistence to ghost train, the capital's Jewish residents prefer to disembark before the rails reach East Jerusalem, with its stonings and firebombings.
The recent two months have seen a rise in the number of attacks on the train, especially in the Palestinian parts of the city. Those using the Light Rail for their daily commute say incidents in the Shuafat and Beit Hanina stations have become routine.
Police fight 'quiet intifada'
Only Wednesday morning, Israeli Police Chief Yohanan Danino said he believed the violence that has plagued the capital would calm down, highlighting fears the police could not handle what some are calling a "quiet intifada".

In recent days, security forces have attempted to better monitor the Shuafat neighborhood by launching a patrol blimp to view the area from the sky. In a video shot from the balloon Wednesday, police forces could be seen chasing two 10-year-old Palestinian boys suspected of throwing rocks near the station.

Video: Israel Police (צילום: חטיבת דובר המשטרה)

The municipality says it plans to launch a number of other such balloons over other flashpoint areas in the capital.

Speaking after Wednesday's terror attack, Jerusalem Mayor Nir Barkat said that, "the situation in Jerusalem has become unbearable and we must act unequivocally to end all violence in the capital."

Barkat urged the police to take action, saying "today it is clearer than ever that police forces should enter the Arab neighborhoods where disorder is rife."

Abed a-Rahman a-Shaludi, 20, from the Palestinian village of Silwad near Ramallah, was known to security services. Last December he was freed from an Israeli prison after serving a 16-month sentence for security related offenses. He was detained again for a month in February, along his father.

Roi Kais and Omri Efraim contributed to this report