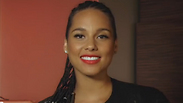 Keys congratulates 'My friend Idan'
Photo courtesy of MTV Israel
Israeli singer-songwriter Idan Raichel was in for a very pleasant surprise Saturday night after winning the prestigious MTV Role Model Award for his great success overseas in the past year.

American R&B singer Alicia Keys surprised Raichel with a video which was screened during the MTV Israel award ceremony at Jaffa's Theater Club , in which she congratulated "my friend Idan" for "all the incredible work that you do."

Message from Alicia Keys

The Israeli musician received the award for the Idan Raichel Project's world tour in the Far East, the United States, Mexico, Canada and Europe.

"This is an amazing, amazing award," Keys said in the video, "which is what you are. But really what you are is just an incredible human being who bridges cultures and promotes tolerance, which there's nothing more important than you and your mission and your work. So congratulations because you inspire me all the time."

Raichel's cooperation with Keys began when he was a guest at her concert in Israel. The professional ties between the two grew stronger as they performed live alongside Palestinian musician Ali Amir-Kanoon in front of 70,000 people at New York's Central Park.

The Idan Raichel Project received the MTV Role Model Award for representing Israel around the world and for its collaboration with a long list of international artists, including India Arie, Andreas Scholl, Patrick Bruel, Marta Gómez, Farka Touré and many others.

The MTV Israel Music Awards ceremony was produced in cooperation with the international MTV network and hosted by former MTV Europe presenter Jason Danino-Holt and model Nataly Dadon.