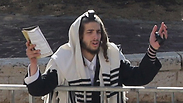 Worshiper at scene of the attack
Photo: Gil Yohanan
US President Barack Obama on Tuesday condemned the attack by two Palestinians on a synagogue in Jerusalem that killed four people, including three Americans, and called on Israeli and Palestinian leaders to lower tensions and seek peace.
"I strongly condemn today's terrorist attack on worshipers at a synagogue in Jerusalem," Obama said in a statement. "There is and can be no justification for such attacks against innocent civilians."
"At this sensitive moment in Jerusalem, it is all the more important for Israeli and Palestinian leaders and ordinary citizens to work cooperatively together to lower tensions, reject violence, and seek a path forward towards peace," he said.
Speaking to reporters at the White House, Obama said US Secretary of State John Kerry had spoken to Prime Minister Benjamin Netanyahu about the attacks.
"Tragically this is not the first loss of life that we have seen in recent months. Too many Israelis have died, too many Palestinians have died. And at this difficult time I think it's important for both Palestinians and Israelis to try to work together to lower tensions," he said.
Earlier Tuesday, Kerry has branded the deadly terror attack at a Jerusalem synagogue as "pure terror", and demanded that Palestinian leaders condemn the attack.
Two terrorists wielding meat cleavers, knives and guns arrived at the compound on Harav Shimon Agassi Street, which includes a synagogue and yeshiva (rabbinical seminary), and carried out attacks in more than one location.
"People who had come to worship God in the sanctuary of the synagogue were hatcheted and hacked and murdered in their holy place in an act of pure terror and senseless brutality," said Kerry.
"To have this kind of act, which is a pure result of incitement, of calls for 'days of rage,' of just irresponsibility, is unacceptable," he said.
"The Palestinian leadership must condemn this and they must begin to take serious steps to restrain any kind of incitement ... and exhibit the kind of leadership that is necessary to put this region on a different path. This simply has no place in human behavior and we need to hear from leaders who are going to lead their people to a different place."
Last week,
Kerry traveled to the Jordanian capital
and won commitments from Netanyahu, Palestinian President Mahmoud Abbas and Jordanian King Abdullah II, who serves as the custodian of Muslim holy sites in Jerusalem, to reduce tensions.
Kerry, who spoke Tuesday before meeting in London with British Foreign Secretary Philip Hammond, noted that Israel had acted to calm the situation by easing age restrictions on Muslim worshipers at the al-Aqsa Mosque.
He did not mention any steps taken by the Palestinians despite what had been described in Amman as a pledge from Abbas to rein in incitement.
Hammond made a statement following his meeting with Kerry. "Alongside Secretary Kerry, I condemned in the strongest possible terms the appalling attack that took place this morning at a synagogue in Jerusalem, in which at least four people have been murdered in a place of worship," he said.
"I call on all world leaders to step up and condemn this brutality. Both sides must do everything possible to de-escalate tensions, which are extremely dangerous for the Israeli and Palestinian communities."
Quartet Representative Tony Blair said the attack was "a heinous crime, a wicked killing of innocent people exercising their right to worship."
He warned the attack will "rightly provoke revulsion across the world. There can be no justification for such an attack and it should command condemnation from every quarter. My deepest sympathy and condolences are with the families of the victims."
He too called to ease tensions to avoid further escalations. "At this moment, therefore, it is all the more important that all Israeli and Palestinian leaders and people do all they can to reduce tension, reject violence and work for peace."
Canadian Foreign Minister John Baird said on Tuesday that Canada deplored the "savage" terror attack.
"Attacks on innocent worshipers, in what is supposed to be a place of peace and tranquility, are cowardly and must never be tolerated," said Baird.
"Those engaging in these despicable terrorist acts, and those financing or morally supporting their actions, are responsible for further aggravating an already fraught and dangerous situation," Baird added.
"Canada reiterates that any statements of incitement are completely irresponsible. Those leaders who regularly issue them cannot plead ignorance or look the other way when terrorist attacks like today's occur," Baird continued.
US Ambassador Dan Shapiro said the attack marked a new low, and that his embassy condemned it in the strongest possible terms. He added that there was no possbile justification.
Several other foreign ministers condemned the attack. The French foreign ministry said that "President Hollande strongly denounces the awful attack carried out in a synagogue in Jerusalem and those who dared to commend this act. He shares the grief of the families and of the Israeli people."
The German foreign minister, Frank Walter Steinmeier, said he hoped the attack would serve as a wake-up call, and that the overlap of political and religious issues in the conflict added a new and dangerous dimension.
Turkey's foreign ministry condemned the attack, saying, "We cannot accept attacks against the holy places of any religion."
UN Secretary General Ban Ki-moon strongly condemned the attack and lamented a worsening of the situation on the ground.
"Beyond today's reprehensible incident, clashes between Palestinian youths and Israeli security forces continue on a near daily basis in many parts of East Jerusalem and the West Bank," said Ban in a statement.
"The steadily worsening situation on the ground only reinforces the imperative for leaders on both sides to make the difficult decisions that will promote stability and ensure long-term security for both Israelis and Palestinians," he said.
Ban called on Israeli and Palestinian leaders to refrain from using provocative rhetoric that could stoke tensions and lead to violence.
Hamas said the attack was a response to the death of bus driver Yusuf Hassan al-Ramouni, who was found hanged at a Jerusalem bus terminal Sunday night. While al-Ramouni's family claimed foul play, autopsy results confirmed police's suspicion of suicide on Monday afternoon.
Hamas said the attack was also a response to "the ongoing Israeli crimes at al-Aqsa (mosque). The Hamas organization calls for the continuation of acts of revenge."