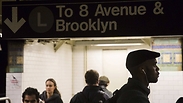 Subway in Williamsburg, Brooklyn
Photo: Reuters
An Orthodox Jewish man was attacked by three people at a train station in New York City on Monday, the New York Daily News reported on Tuesday.

The assailants beat the Jewish man with his own umbrella and called him a "dirty bloody Jew" and "a "f---ing Jew," according to the New York Daily News.

Growing Anti-Semitism

As tensions rise between Jews and Arabs in Israel, Holland's chief rabbi says two Arab men tried to run him over, 'To be demolished' sign posted on Istanbul synagogue, Jewish teen assaulted in Paris and an online campaign glorifies vehicular attacks.

The 53-year-old Israeli tourist was attacked by three people at the Marcy Avenue Subway station in Williamsburg, Brooklyn.

The three attackers fled the scene, boarding a Manhattan-bound train, after a bystander came to help the victim and was also attacked.

The Jewish victim was waiting for a train around 4pm on Monday when one of the three suspects approached him from behind and tried to take something from his pocket. When the Jewish tourist turned around and asked the stranger what he was doing, the attacker called him a "dirty bloody Jew," according to reports.

The attacker than spit at the man, grabbed his umbrella and beat him over the head.

When the victim began to pursue the assailant, he was attacked from behind by a second suspect who called the victim a "f---ing Jew" and kicked the victim repeatedly.

Neither of the victims was seriously injured, according to officials, and the three suspects were still at large on Tuesday.

The attack came hours before the Jerusalem synagogue attack that occurred on Tuesday morning in Israel.

New York City Mayor Bill De Blasio and NYPD Commissioner Bill Bratton said the city has increased its police presence at synagogues and other key locations around New York City on Tuesday.

"The NYPD is following developments in Jerusalem closely and working with the FBI Joint Terrorism Task Force to monitor any further developments," Bratton said in a statement. "As of now, there is no specific credible threat to New York City."

"The NYPD is in close contact with its liaison post in Israel," de Blasio said. "As always, we ask New Yorkers to stay alert and immediately report any suspicious activity."

"We are aware of the situation and are working in close collaboration and cooperation with the appropriate Israeli allies and partners," the FBI said in a statement.

De Blasio said he is "horrified and heartbroken" by the attack.

"New York City stands in solidarity with Israel at this difficult time, and we hope and pray for a peaceful and secure future for all of its people," de Blasio said in a statement.