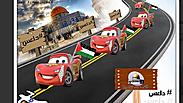 Anti-Semitic cartoon encouraging vehicular terror on the way to Jerusalem's occupation 
Photo: ADL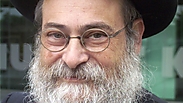 Rabbi Binyomin Jacobs. 'Situation reminds many of what happened before World War II'
Rabbi Binyomin Jacobs, chief rabbi of the Inter-Provincial Chief Rabbinate of the Netherlands, has filed a complaint with the Dutch police of a run-over attempt.

Rabbi Jacobs told Ynet he believed the incident was aimed at intimidating him, but did not rule out the possibility that it was an attempt to physically harm him.

Growing Hatred

As 'Hitler' Twitter account gains more and more followers and Facebook page displays 'list of Jews,' Foreign Ministry and EU representatives discuss ways to combat anti-Semitism.

This isn't the only incident in the past few days, which points to a possible escalation in the global arena in light of the recent wave of terror, similar to the rise in anti-Semitic incidents during Operation Protective Edge last summer.

A "To be demolished" sign has been hung on the gates of a synagogue in Turkey, in Paris a Jewish teen wearing a skullcap was attacked near his school, and the Anti-Defamation League has detected a social media campaign glorifying "run-over" terrorism.

The incident in Holland took place while the rabbi stopped at a gas station to fill up his car. He says he saw two young men of Arab descent parking a BMW vehicle in the next fueling row.

"I stopped at a gas station on my way to the town I live in, near Amsterdam," Rabbi Jacobs told Ynet. "When I was done, I saw that the car next to me had also finished filling up its tank, but had not left the station."

He says the two men in the vehicle gave him threatening looks while talking to each other in Arabic.

"It seemed suspicious, so I waited for them to leave in order to get out of my car and pay, but that didn't happen. Eventually I stepped out of the car in order to cross over to the payment booth, when they quickly drove towards me. I had to hurry and get on the pavement so as not to get hurt. They then stopped the car and began cursing me in Arabic."
'Anti-Semitic incidents on a daily basis'
Rabbi Jacobs speaks cautiously, saying he is afraid of making too much of the incident.

"There were Jews in Holland before and after the Holocaust, but what is happening today reminds many of them of the situation before World War II. I am very careful not to make such comparisons, but on the other hand, I am against turning a blind eye."

The rabbi describes anti-Semitic incidents on a daily basis every time he goes out on the street, including stones thrown at his house during Operation Protective Edge, an incident which led the local police to install cameras around his home.

"I'm glad that at least in this situation, the phenomena we experience in our daily life are somewhat visible," he says.

Do you see a direct link between the security situation in Israel and the level and seriousness of incidents against Jews in the Diaspora?

"Absolutely, there's no doubt. The hidden anti-Semitism has become open. Why a Chinese living in Holland would never be accused of the wrongs of the Chinese regime, and a Turk would never be accused of the Armenian genocide. But if you're a Jew, you're clearly responsible for any injustice caused by Israel, whether it's true or false."

Another anti-Semitic incident took place in Paris several days ago, when a Jewish teen wearing a kippah was assaulted outside his school, which has a large Jewish population, by a gang of youth described by local media as "Africans." He was reportedly beaten in all parts of his body.
'Run over' campaign gaining momentum online
The Anti-Defamation League (ADL) noted Tuesday that in the wake of a series of terrorist run-over attacks in Israel, it has identified more than 90 Facebook pages glorifying the attacks and urging more violence against Israeli civilians.
According to the Jewish group, the social media campaign, which uses the Arabic term "Daes" (run-over), which is a play on the word "Daesh" (ISIS), praises the attacks as a form of resistance.
Some of the posts on these pages describe the "run-overs" as part of a new revolution, a form of a "car intifada." Many of the pages also enable users to give vent to expressions of violent anti-Semitism.
'Unacceptable abuse' in Turkey
Meanwhile, in Turkey, local Jews are receiving a regular reminder of their grim situation. Local media reported that last Friday, unknown vandals posted a note reading "To be demolished" on the doors of Istanbul's main synagogue.

According to The Algemeiner, the incident apparently took place after Friday evening Shabbat services, while the synagogue was empty and closed.

The Jewish community tweeted a thank-you note to the Turkish police after the incident, saying: "We Turkish Jews who become the target of unacceptable abuse after every incident in the Middle East, we thank our police for its assistance to us and to our synagogues."

According to The Algemeiner, Turkish Minister of Tourism and Culture Omer Celik tweeted shortly after the incident, "Any kind of provocation against our Jewish citizens and synagogues shall not be allowed or tolerated."

But the atmosphere in Turkey is growing tense. On Sunday about 100 members of the Alperen Ocakları youth group marched near the synagogue in protest of Israeli's policy on the Temple Mount. The protestors chanted anti-Israel slogans and tried to enter the street where the synagogue is located.

The demonstrators reportedly declared, "Israel, you will pay for what you do. Once again we are warning the Zionist and bloodsucker Israel that we, the Alperens, we see all Muslim blood as our own, every soul as our own.

"Al-Aqsa Mosque must be protected by Turkish soldiers." They added.