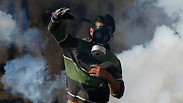 Rioting in Shuafat
Photo: Reuters
In fewer than three months, Chief of Staff Benny Gantz will finish his tenure. Unless there are any dramatic surprises, it's possible that by Sunday we will already know who will be the 21st IDF chief of staff, and who will be his deputy. In any case, it appears that he will be wearing the brown beret of Golani.

The two nominees for the position, Major Generals Gadi Eizenkot and Yair Naveh, are veterans of the brigade. So, the Golani veterans among the top brass are already pleased. They know from experience and statistics that chiefs of staff tend to grant senior positions to officers who cut their teeth in the same unit as themselves.




But naturally, the reshuffle has caused uncertainty and concern in quite a few military circles.

In general, this is not a happy time for the army. Its people are aware that the budget expected to be approved by the Knesset over the next few weeks will not allow them to apply the lessons learned in Operation Protective Edge. The army's general staff says that it will barely be possible to restore the army to acceptable performance levels.
IDF and Shin Bet renew discussion
Several factors have damaged morale. The very process of learning the lessons, the incessant criticism by the media of the summer's events, and the public feud between senior IDF and Shin Bet officials have all taken a toll.
However, senior officials have already begun to unite in rehabilitating and improving relations between the army and the security service.
The process recently initiated by the Directorate of Military Intelligence to formulate the national intelligence assessment for 2015 has brought more bad news.
The Palestinian arenas – Jerusalem, the West Bank, and Gaza – are already in various states of unrest and escalating violence, carrying the threat of combining into a single, large conflagration. Events unfolding on the northern front are also not encouraging. All this has IDF officials on their toes.
The future is far from certain. But it appears that at the moment, there are signs of increasing escalation in Jerusalem and the West Bank, despite the fact that the past few days have seen no terror attacks and fewer public disturbances. In the West Bank, where the army is responsible for security, there has been less violence than in Jerusalem. But there is a rising number of so-called "road attacks" such as the use of cars as weapons, stone-throwing, and use of firearms.
This type of violence was also common in previous intifadas, but this time religious motivation is stronger than before, and may drag us along with the entire region into a religious war. The Hamas plan to assassinate Foreign Minister Avigdor Lieberman is but one example of the "road terror" the IDF faces in the West Bank.
Another cause for concern is growing evidence that the Palestinian Authority's security apparatuses are losing motivation. They are following Mahmoud Abbas's orders and curbing a significant portion of disturbances -- even disrupting Hamas infrastructure -- but not with the level of efficiency and thoroughness seen mere months ago.
Security officials believe that the main reason for this is that the Palestinian public isn't supportive and brands them collaborators. Security forces perceive that most Palestinians view the struggle to stop Jews from gaining control of Muslim holy sites in Jerusalem as legitimate. Thus, a Palestinian who interferes with this jihad is a traitor.
This narrative, which plays on religious fervor, is the reason for Abbas's fiery rhetoric. Like his people, he is anxious about his physical and political survival. Only under American pressure did he voice any condemnation of the synagogue massacre and advise Palestinian media to tone down their ire.
The IDF general staff estimates that we are not yet in the middle of a full-blown intifada and that the escalation can still be controlled – it may even be possible to reverse the trend. That depends largely on us, say security forces. The main thing is to neutralize the religious element that is driving Palestinians to violence. We must do everything to remove the Temple Mount from the agenda, politically, publicly, and in the media.
The IDF is obviously alluding to declarations and Temple Mount visits by Israeli politicians, building in East Jerusalem, archeological digs, and tourist sites, all of which Palestinian media present as proof of Israeli scheming to take over Muslim holy sites.
Besides neutralizing the religious element, government officials recommend maximum effort to economically benefit Palestinians in the West Bank and to give them freedom of movement. They say that improving the economic situation will have a pacifying effect. Thus, preventing license-holders from working in Israel, as well as checkpoints and closures, are incendiary rather than mitigating measures.
The IDF says that if necessary, they will join police forces in Jerusalem, but with definite reluctance. Soldiers are not trained to confront crowds using riot control equipment, and may end up in distress, forcing them to use live fire and cause casualties. This would only fan the flames. But the army has already transferred two border patrol regiments from the Palestinian territories to police command in Jerusalem. The border patrol units are being replaced by regular and reservist units.
Gaza on the brink of catastrophe
Gaza is another tumultuous area. The Coordination and Liaison Administration for Gaza claims that the Gaza Strip is on the brink of a humanitarian crisis in every possible way. Unemployment is reaching 50%. Sanitation and medical services are failing, and the Gaza coast long ago became a cesspool of sewage that may be carried away and reach Israeli shores. Power cuts are frequent.
Worst of all, there is no adequate housing for hundreds of thousands of residents whose homes were destroyed by bombing during Operation Protective Edge. $5.4 billion of aid promised by various countries have not arrived, because the Palestinian Authority headed by Abbas is at odds with Hamas, and because Abbas is not willing to perform the role he undertook to manage rehabilitating the Strip.
But the main reason is the blockade that Egypt imposed following the Sinai terror attack in which more than 30 Egyptian soldiers were killed. Worse still, Egypt didn't convene talks about rehabilitating the Strip in exchange for disarmament, which were to begin last month. In their absence, there's also no hope of promptly implementing the reconstruction program the UN formulated with Israel.
The IDF warns that this situation could blow up in our faces before long. Deterrence exists as long as there are no other factors to weaken and neutralize it. That may be the fate of the deterrence attained by Protective Edge, if Hamas decides that the only available option to bring change is another war against us, which will finally bring attention to their distress.
Some claim that this could happen much faster than we thought, and the evidence for that is the speed with which Hamas is rebuilding its military power and production capabilities. It now has no problem recruiting the jobless to its cause for 1,000-1,400 shekels a month, and it is also restoring its rocket production system. This is the reason for its frequent experiments in shooting rockets into the sea. The only conclusion is that we must act quickly to rehabilitate Gaza before it's too late.
Aggressive response policy
Analysts think that the Islamic State and other radical Islamic organizations do not post an immediate and tangible threat to Israel on the northern front, or even in the Sinai. However, Islamic extremism and the collapse of familiar regional nation states may eventually endanger Israel. Radical Islamists may, for example, manage to seize modern weapons stored in Syrian warehouses, including rockets and anti-aircraft weapons.
We must also be aware of the recent change in the conduct of Hezbollah in south Lebanon and in other areas of friction. Until recently, the group was preoccupied on a number of fronts: fighting the war in Syria alongside Bashar Assad, supporting Shi'ites in Iraq, and especially battling Sunni radicals who have crossed from Lebanon to Syria or have committed terror attacks.
The prevailing assumption, which has been validated in the past, was that Hezbollah does not currently want to deal with us, the more so because the organization's Iranian patrons will not allow it to spend its enormous rocket arsenal unless it directly serves Iran's interests. One such use would be to threaten retaliatory attacks if Israel dares to hit Iran's nuclear weapons project.
Recently, however, it appears that Hezbollah has changed its mind and adopted an aggressive policy towards us. Anything that Nasrallah sees as an Israeli attack on Hezbollah assets provokes immediate, violent retaliation. The danger in Hezbollah's new policy is that a minor incident could quickly spiral out of control and turn into a third Lebanon war without either side really wanting that. The situation requires full preparedness in the explosive and uncertain northern front.