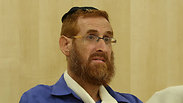 Yehuda Glick survives assassination attempta and released from hospital.
Photo: Gil Yohanan
Right-wing activist Yehuda Glick, who survived an assassination attempt last month was released Monday from the Shaare Zedek Medical Center in Jerusalem.

He opened a press conference at the hospital with a prayer "Blessed be he who raises from the dead" and called to provide security to public figures.

"We must not assume that public figures in Israel are protected. Something has happened in Israel. A public activist who keeps the law was shot just because of his beliefs. Tomorrow it can happen to others. It must be treated as though it was successful, and to know public figures need protection."

"It is obvious that the fact that I am sitting here and speaking like this is not taken for granted," continued Glick who thanked his family and the hospital staff – from the chief of staff to the dieticians – during the hour-long press conference.

"The very fact that four bullets hit my abdomen and none of them hit a major blood vessel, the heart - a bullet hits the spine, (and) decides to skip the spinal cord. A bullet hits the neck, (and) leaps over the carotid artery. The surgeon told me, 'You do not know how lucky you are, if the bullet had hit two millimeters next to where it did.'

Glick praised the coexistence in the hospital, where Israeli Jews and Arabs work together. According to Glick, because of the coexistence within the hospital, he did not feel the rise in escalation that was occurring outside of it.

Glick also praised the police for quickly eliminating the terrorist who shot him and for providing him with protection afterwards as they "understood that there are those who are not very pleased that I am still here."

Glick thanked those who supported him while he was healing in the hospital saying, "When I could, I read what a large portion of you wrote. It is really fun, the support touches the heart, warms the heart. I thank the nation of Israel that prayed, blessed, called, and who wanted to come but I did not let them."

The terrorist who shot Glick, Moataz Hejazi, a 32-year-old Islamic Jihad operative from Abu Tor, was shot to death the next day by Israeli security forces. Hejazi's family recieved a demolition notice for their home in East Jerusalem over a week ago.

A week ago, Glick told the Chief Rabbi of Israel David Lau about the moments leading up to the shooting during Lau's visit to the hospital. "He came up to me, stood across from me and said to me: 'I'm really sorry, you're an enemy of al-Aqsa' and shot."