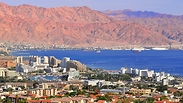 Eilat. Sharp drop in number of tourists
Photo: Shutterstock
The fighting in Gaza over the past summer is still affecting Israel's tourism industry: Only 811,000 tourist stays were recorded in October, an average drop of 33% across the country from the same period last year.

As most tourists book their vacations in Israel several months prior to their arrival, the cancellations and decline in the number of hotel stays reflect the direct impact of the situation in July and August 2014.

Secret Tourism

More than 250,000 Muslim and Arab visitors from countries which have no diplomatic relations with Israel have arrived in Jewish state since 2009.

The shaky security situation after Operation Protective Edge, especially in Jerusalem, has also contributed to the crisis in the local tourism industry, dealing a heavy blow to hotels' occupancy rate.

Surprisingly, the southern resort city of Eilat appears to be the main victim of the crisis, with a 59% drop in tourist stays throughout October. Others areas which have been hit hard include the Dead Sea (a 36% drop from last year), Netanya (a 34% drop) and Tel Aviv (31%). Jerusalem's hotels recorded 227,000 overnight stays (a 23% drop), while Nazareth experienced an 18% decline.

The only city which attracted more tourists than in the same period last year was Herzliya, which recorded an 11% increase in tourist stays (17,000).
Rise in domestic tourism
Despite the grim figures for the month of October, there has only been a moderate drop in incoming tourism since the beginning of the year. In total, the first 10 months of the year recorded 7.8 million tourist stays, a 3% decrease from the same period in 2013.

Domestic tourism, on the other hand, increased by 1% with 11 million hotel stays. A calculation of both domestic and incoming tourism keeps the situation unchanged compared to last year with 18.9 million hotels stays – an impressive figure for such a turbulent year.

"Israel's tourism industry experiences ups and downs throughout the years due to the geopolitical situation," says Shmuel Zurel, director general of the Israel Hotel Association. "Nonetheless, despite the grim figures, the State of Israel is a strong tourism brand.

"We are still coping and surviving, and thanks to the state's proper investment in marketing and in a series of aid activities, we will succeed in restoring the tourist traffic, as we have a high potential of becoming a tourist nation."