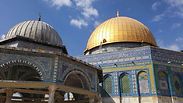 Temple Mount. Almost all Muslim tourists arrive for religious reasons
Photo: Asaf Kamer
The warming relations between Israel and the moderate Muslim world on the backdrop of the crisis with Iran and the global jihad threat can be felt in the tourism industry as well.

The past six years have seen a dramatic rise in the number of tourists arriving in Israel from Islamic and Arab states which have no diplomatic ties with the Jewish state.

Surprising Guests

Turkey's leading tourism association announces 2015 as 'Year of Jerusalem,' says it wants to make a contribution to peace in holy city by increasing number of tourists there.

Since 2009, more than 250,000 Muslim and Arab tourists have visited Israel secretly. Almost all of them arrived in the country for religious reasons, but some also for business and shopping.

Some 124,000 tourists came from Indonesia, 81,000 from Jordan, 23,483 from Malaysia, 38 from Saudi Arabia, 168 from the United Arab Emirates and 147 from Qatar and Oman.

Israel has avoided publishing these figures so as not to affect the positive trend. Every visa permit for a tourist from these countries is examined by the Shin Bet before being approved by the Foreign Ministry and the Population and Immigration Authority.

An updated report of the Population and Immigration Authority obtained by Yedioth Ahronoth summarizes the number of tourists who have arrived in Israel from 10 Arab and Muslim countries, only two of which (Jordan and Egypt) have diplomatic relations with the Jewish state.

The highest number of tourists arrived from Indonesia – 124,719 visitors in the past six years. The year 2013 saw the arrival of 29,517 tourists from Indonesia, more than three times the number of tourists who arrived from that country in 2009 (9,442).

A total of 23,483 tourists arrived from Malaysia in the past six years. While only 584 arrived in 2009, the number of arrivals from Malaysia jumped to 7,859 in 2013.

The past six years saw the arrival of 168 tourists from the UAE, 38 from Saudi Arabia, 200 from Kuwait, 73 from Qatar (which is known for its support of Hamas) and 73 from Oman.

Some 6,440 tourists arrived in Israel from Morocco in the past six years. A total of 2,239 Moroccan tourists have arrived since the beginning of 2014, compared to only 658 in 2009.

The number of tourists from Jordan has nearly doubled since 2009 with 81,575 Jordanian tourists in the past six years. A total of 13,333 tourists arrived from Egypt, including 4,368 since the beginning of 2014 (compared to only 1,018 in 2009).

Kuwait announced last month that it would allow its citizens to visit Israel and the Palestinian Authority as part of a tour package with the government's approval. Tourists will fly from Kuwait to Amman, Jordan, and travel to Jerusalem on buses. They will stay in hotels in East Jerusalem, pray at the Temple Mount and shop in Jerusalem and in the Palestinian Authority.

The Kuwaiti foreign minister launched the trips to Israel with a visit to the Temple Mount, which he held in coordination with Israel. Kuwaiti officials stressed that their citizens' visits do not indicate in any way that they are recognizing the State of Israel. They added that the Kuwaiti tourists were expressing their support for the Palestinian people during their visits.

It should be noted that if tourists from these countries ask not to have their passports stamped upon entering or exiting Israel so as not to get in trouble when they enter Arab countries, the state agrees.

The Arab and Muslim tourists arrive in Israel both through Ben-Gurion Airport and through the border crossings with Jordan.