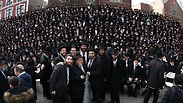 'We are really one big family,' says Chabad rabbi
Photo: Chabad.org
About 2,000 rabbis gathered for a group selfie this week at the International Conference of Chabad-Lubavitch Emissaries in Brooklyn, New York.

The Chabad-Lubavitch rabbis have been gathering for a traditional group shot every year since 1983.

Jewish Enterprise

What started off in small room on fourth floor of Rutgers University's Student Center is now considered world's biggest Chabad House.

According to the Chabad.org website, while the first gathering drew 65 rabbis. There are more than 4,200 rabbis are in town for this year's conference.

Over the years, the photo has grown in scope with the rabbis crowding the frame.

This year, Chabad says, a few tech-savvy rabbis decided to add a modern twist to the photo. Using Twitter and WhatsApp to coordinate, they gathered for a massive group selfie which was taken with a particularly large lens that was held up with a 5-meter-long stick carried by two men.

"We are really one big family," said Rabbi Levi Slonim of the Rohr Chabad Center for Jewish Student Life at Binghamton University in New York, who was part of the group triggering the selfie. "Who better to be with, for what might be a world-record-setting group selfie?"

Meanwhile, Microsoft Bangladesh has attempted to create the world's largest selfie with 1,151 people in a bid to promote the recently released flagship selfie phone, Lumia 730.