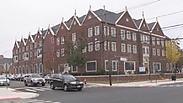 Central location. Chabad House at Rutgers University
Photo: Eli Mandelbaum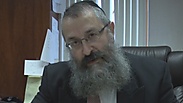 Rabbi Yossi Carlebach. Introducing Judaism to students
Photo: Eli Mandelbaum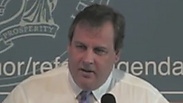 Chris Christie. 'They do wonderful things down there'
Photo: Eli Mandelbaum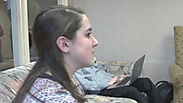 'No longer ashamed of being Jewish'
Photo: Eli Mandelbaum
Chabad on campus: Hub of Jewish student life
What started off in small room on fourth floor of Rutgers University's Student Center is now considered world's biggest Chabad House, with friends like Paul McCartney and New Jersey Governor Chris Christie. 'Our job is to show students that Judaism is alive,' says rabbi
NEW JERSEY – There are 40,000 students at Rutgers, the State University of New Jersey, and in the heart of the campus one stands out what is probably the biggest Chabad House in the world, which offers its services to more than 4,000 Jewish students and guests arriving at the university.

The hub of Jewish campus life, the Chabad center caters to students' religious needs and offers them meals and accommodation.

Chabad Extreme

Armed with a camera, phylacteries and 'Tanya' book, Meir Alfasi searches for Jews in most remote places on earth. Everywhere he goes – Bolivia, Saudi Arabia and even Iran – he finds Jews to grant a mitzvah

Rabbi Yossi Carlebach, who was sent to the picturesque city of New Brunswick by the late Lubavitcher Rebbe, heads the huge and unique Chabad House to this very day. He still remembers how he started off in a room he rented on the fourth floor of the Student Center.

"Only in 1981 we rented the first building, with the rabbi's persistent encouragement," Rabbi Carlebach recalls. "Our great development was in 1994, when a student died of an overdose in one of the buildings located on the main street, and in an unusual move the university decided to sell the building – which belonged to some fraternity – and the rest is history."
Dinner with Paul McCartney
One of the Chabad House's biggest fans is New Jersey Governor Chris Christie, who was surprised to discover another famous fan at a Chabad fundraiser.

"I went to a Hanukkah celebration at the Hyatt in New Brunswick for the Chabad House," Christie recalls. "I have worked with the rabbis at the Chabad House a lot over time, when I was US attorney and now since I've been governor. They do wonderful things down there, it's a great organization.

"And I said to my staff, 'So what's the deal in there?' And Frank says, 'Governor, you're not going to believe who's in there… Paul McCartney.' I go, 'Come on, Paul McCartney is at the Chabad House fundraiser, in New Brunswick, on a Tuesday night, at 7:30?' And I say, 'Yeah, yeah, Frank, right.' So I walk in and I take a bunch of pictures with the rabbis, I get walked up to the stage. I sit on the stage and I look out and right there, at table 2, is Paul McCartney!"

Rutgers student Talia Friedman says she was ashamed of her Jewishness until she arrived at the Chabad House. "Here I became proud of being Jewish. The Chabad emissaries walk around with beards and an authentic Jewish appearance, so I have nothing to be ashamed of either," she says.

Apart from the feeling of pride, Talia adds, there is also the assimilation issue: "The Chabad House is an excellent place for meeting other Jews for friendly relations."

"The Jews here did not go to a yeshiva and are not thinking of ever visiting a yeshiva," Rabbi Carlebach observes the Chabad House goers. "They come from a non-religious home and have negative opinions about Judaism. They may have had a bar mitzvah, and it was hard work for them.

"The job of the emissaries here is to show them that Judaism is alive, and that Hasidism is alive. It gives them a sense of life which they cannot get anywhere else."