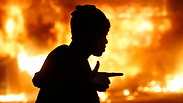 The Anti-Defamation League said Thursday that it was offended by a post on American football player Reggie Bush's Instagram account that compared the rioting in Ferguson, Missouri to Palestine.
The post "demonstrates a severe lack of understanding of both issues," said the ADL.
Bush joined the list of celebrities who have landed themselves in hot water over Israel-related comments on social media, which already includes singer Rihanna and his own former girlfriend,Kim Kardashian.
The ADL said the photo showed man holding up a sign reading: "The Palestinian people know what mean to be shot while unarmed because of your ethnicity #Ferguson #Justice."
Bush's comments included, "No matter who you are, what color skin you have, where you live, we are all in this together! This isn't a Ferguson problem it's a global problem. We need change NOW! What happened to humanity? #JusticeForMikeBrown."
"Racially motivated violence is never acceptable," said Abraham H. Foxman, ADL National Director.
"The conflict between Israel and the Palestinians is not based on race, it is a political dispute based on claims to land, and by conflating the death of Michael Brown with the conflict in the Middle East, Reggie Bush demonstrates a severe lack of understanding of both issues. He should stick to football."