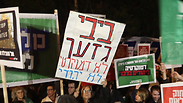 Left-wing activists protest outside of Netanyahu's home in Jerusalem.
Photo: Gil Yohanan
Hundreds of citizens, MKs and left-wing activists gathered outside of the home of Prime Minister Benjamin Netanyahu in Jerusalem on Saturday night to protest the legislation of the controversial nationality bill.

Under heavy police supervision, the protesters chanted "Jews and Arabs refuse to be enemies," and attacked Netanyahu's conduct.

"The State of Israel is led by a group of pyromaniacs and headed by an ego-maniac towards final destruction," said former head of the Shin Bet Carmi Gillon.

During the protest – one of the largest to take place outside of the Prime Minister's house in the capital in recent years – Gillon stressed that "the law eats and will eat like a cancer in the body of all of its citizens. The continuation of the masochistic and radical policy at the Temple Mount will lead to a war of Gog and Magog against the entire Jewish nation."

Former Education Minister Yossi Sarid also spoke at the protest and said, "Netanyahu said that Israel is for Jews only, and we are here to correct him on his mistake. This is a country for all of its citizens, Jews and Arabs together. Nobody here is the tenant or the guest, and nobody alone is the landlord."

"Israel is no longer the democracy that you used to flaunt so much," said Sarid, directing his words at American Jews.

MK Erel Margalit (Labor) responded to Netanyahu's criticism directed at left-wing parties and said, "We have an evacuation and construction plan. We are here to vacate you soon from the tabernacle of prime minister. We are here to vacate you and your nationalist friends."

"Netanyahu lost control of the security of the citizens and Jerusalem, where the fire is burning. He lost control of the economy and brought Israel into a recession," Margalit continued.

The protest, which included more than 800 participants, included MK's from the Labor and Meretz political parties and representatives of the Peace Now organization.