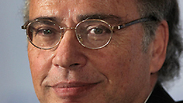 Central Council of Jews' current president, Dieter Graumann, who quit last month
Photo: AFP
An Israeli-born German doctor on Sunday took over as leader of Germany's Jewish community, saying it was part of German society and aimed to help shape life in the country.

Josef Schuster, 60, was voted in as the new president of the Central Council of Jews in Germany at a meeting in the western city of Frankfurt, it said in a statement.

Sign of Hope

Jewish community in in town of Cottbus purchases local building which housed Protestant church in bid to turn it into a Jewish house of prayer.

He had been vice president since 2010 and replaces Dieter Graumann who announced last month he would not stand again due to the heavy demands of the four-year role.

The Central Council is an umbrella organization of more than 100 Jewish communities in Germany with around 100,000 members.

"The Jewish community is a part of this society," Schuster said after his election, according to the statement.

"We'd like to shape life in Germany also in the future."

Chancellor Angela Merkel congratulated Schuster and said his election recognized his longstanding involvement in the Jewish community in different roles, a government spokesman said.

He "has rendered outstanding service in particular to the integration of emigrants from the former Soviet Union," the spokesman said.

And in his new function, Schuster will bring "momentum for a good future for the growing Jewish communities in Germany," he added.

Schuster, who is from the southern city of Wurzburg, was born in Haifa in Israel and moved with his parents back to Germany two years later.

His father David was also president of the German city's Jewish community for many years.

His father had been deported to concentration camps at Dachau and Buchenwald but later was able to hold out his hand in reconciliation, Schuster said in an interview with the regional Main Post newspaper early this year.

"I too have been brought up this way," he added.

Germany, which was home to some half a million Jews before World War II, saw that number plummet to only around 15,000 after the war.

The Jewish community has grown again, in part as Germany took in Jews from the former Soviet Union, and now numbers around 200,000.

Graumann's tenure at the helm of the Central Council was marked by a debate on religious circumcision and saw a spate of hate speech and attacks against Jews in Germany during the Gaza conflict in the summer.