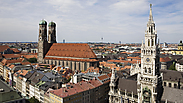 Church in Germany (archives)
Photo: Index Open
A Protestant church building in Germany, which was put up for sale, has been purchased by the local Jewish community in the town of Cottbus, southeast of Berlin, in a bid to turn it into a synagogue, local media reported this week.

Ulrike Menzel, who heads the Protestant Church of Cottbus, told AFP that the keys of the compound were handed over to its new owners in an official ceremony which took place Monday.

Lost Communities

After initiating private documentation of thriving communities in pre-Holocaust Europe through deserted synagogues, Rivka and Ben-Zion Dorfman are donating fruits of their study to Yad Vashem.

"We are extremely pleased," Solomonik Max, one of the leaders of the local Jewish community, told the daily Bild newspaper. The community has so far been holding its prayers on rented premises.

According to AFP, The region of Brandenburg, which surrounds Berlin and includes the city of Cottbus, decided to finance much of the purchase of the church building for the local Jewish community.

Markus Dröge, the region's pastor, said he saw the purchase as "a sign of hope after the tragic Nazi period in which the Christian Church had shown too little resistance."

The town of Cottbus has had no synagogue since 1938, when the Adolf Hitler regime burned and destroyed many Jewish places of worship in Germany. The town's Jewish community, which is believed to have included about 500 members, was completely wiped out during the Holocaust.

The current Jewish community, which mostly includes immigrants from the former Soviet bloc, was revived in 1998 and had about 350 members, according to its website.

Halachic scholars, by the way, are divided over whether a church can be turned into a synagogue. It is usually permitted if the building belonged to a Protestant rather than a Catholic church.