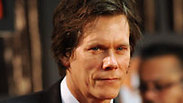 Kevin Bacon to play Yossi Ghinsberg in 'Jungle'
Photo: MCT
He was almost eaten alive by beasts of prey, giant ants walked all over him and the jungle almost defeated him. Now, almost 30 years after he got lost in the Amazon rainforest in Bolivia, Israeli adventurer Yossi Ghinsberg's survival story will be adapted to a film starring American actor Kevin Bacon.

"Back to Tuichi," the first book written by Ghinsberg after he returned from the jungle, became one of the most popular books in Israel in the 1990s. It has been translated into 15 languages and published in several countries under different names. To this very day, it serves as the guide for the perplexed for many young people on their post-army trip to South America.

Hollywood Success

Israeli actress set to play role of Naomi, mother of Jewish prince who is betrayed into slavery and fights his way to freedom.

In the book, Ghinsberg shared his personal story in the Bolivian jungle alongside three other hikers: Karl, an Austrian criminal who claimed to be a geologist, Marcus from Switzerland and Kevin from the United States.

After an adventurous journey from Alaska to Mexico, Ghinsberg moved on to South American to fulfill his dream of hiking in the Amazon rainforest. He worked in odd jobs, hitchhiked from Venezuela to Colombia and met his friends on the road. Together, they continued to the Bolivian jungle for an unforgettable journey.

After hiking together for quite a long time, the group broke up and Yossi and Kevin decided to take a raft down the Tuichi River. At some point they lost control of the raft as it neared a waterfall. Kevin made it to shore but Yossi floated downstream and over the waterfall.

He was left all alone in the rainforest for three weeks. He ate bugs and monkeys, fought hunger and diseases, met snakes and tigers and moved from hope to desperation. He was injured and suffered from hallucinations. Ghinsberg was eventually located by local Indians hired to search for him. The other hikers were never heard from again.

Following the popularity of his book, 53-year-old Ghinsberg began delivering a series of lectures around the world for thousands of dollars. He was married three times, set up a network of alternative clinics for drug addicts and even returned to the Tuichi River and lived there for three years out of his own free will.

"When I returned, I saw the streets filled with backpackers, many of them Israeli," he said in the past. "Each of the many tour organizers offered the eager hikers an adventure in the Tuichi River, claiming that they personally saved my life."

Now, an Australian production company is about to adapt the story of his life, as it was described in his book, into a film called "Jungle" which will be directed by Greg McLean and star Kevin Bacon as Ghinsberg.

According to the Hollywood Reporter, "Jungle" is one of 11 projects to receive $9.2 million worth of financing from agency Screen Australia, which triggers $50 million worth of production Down Under.

It is still unclear whether the film will be screened in cinemas around the world or broadcast on television. One thing is certain: The studio's special effects department will be working overtime in a bid to illustrate Ghinsberg's spine-tingling descriptions of his adventures.