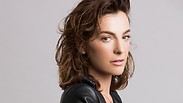 Ayelet Zurer
Photo: Guy Kushi and Yariv Fine
It's official: Israeli actress Ayelet Zurer is joining Paramount and MGM's remake of "Ben-Hur" and is set to play the role of Naomi, the mother of the Jewish prince who is betrayed into slavery and fights his way to freedom, according to the Hollywood Reporter.

Earlier this month, it was reported that Israeli actress and model Gal Gadot, which held negotiations for the a role in the film, was forced to give it up due to a busy schedule and her ongoing commitment to the upcoming film "Batman v Superman," in which she plays Wonder Woman.

Global Recognition

Israeli series 'Hostages' wins Best International Drama Series award at 54th annual Golden Nymph Awards ceremony in Monaco, beating 'House of Cards.' Lead actress Zurer takes home Best Actor in Drama Series award.

In the original 1959 American epic historical drama film, directed by William Wyler, the role of Ben-Hur's mother was played by Martha Scott. Charlton Heston starred as Judah Ben-Hur.

The original film had an Israeli cast member too - Haya Harareet, who played the role of Esther, Ben-Hur's love interest. It was the first film to win 11 Academy Awards.

In the new version, which will be directed by Timur Bekmambetov and is scheduled to hit the screens in 2016, Jack Huston will play the title character alongside Morgan Freeman and Toby Kebbell.

The chariot race from the original 'Ben-Hur' film (1959)

The new film is being produced by Mark Burnett and Roma Downey, the producers of television miniseries "The Bible" and the film "Son of God," which tells the story of Jesus and was a surprising blockbuster earlier this year despite negative reviews.

Zurer, who has been living in Los Angeles in the past few years, is under a tight schedule as well. She recently finished shooting the film "Last Days in the Desert" alongside Ewan McGregor, and is now participating in two television series: "Rake" and "Daredevil."

Her previous Hollywood roles include "Vantage Point" (2008), "Angels and Demons" (2009) and "Man of Steel" (2013), in which she played Superman's mother.

Zurer's agent, Boaz Ben-Zion, said Wednesday: "We are very proud to be part of Ayelet Zurer's activity in Israel and abroad. In December, before the 'Ben-Hur' shooting begins, she is expected to visit Israel."