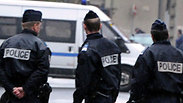 French police arrest two suspects (archives)
Photo: AFP
A Jewish woman was raped in an apparent anti-Semitic attack in Créteil, a commune in the southeastern suburbs of Paris, French media reported Tuesday.

According to the reports, three assailants broke into an apartment armed with a pistol and a sawed-off shotgun, demanding money and using anti-Semitic insults.

Anti-Semitism

Hidden as a child during the Holocaust, Maurice Rapovich has lived all 76 years of his life in France; but now he says the situation is untenable and he is leaving for Israel - and he is far from alone.

They bound and gagged the couple and violently raped the 19-year-old woman, saying it was "because you are Jewish," The Algemeiner reported.

The young woman was reportedly at the home of her 21-year-old boyfriend's parents home in the heavily-Jewish suburb when the three masked attackers broke in, after the couple answered the door.

An hour after the beginning of the attack, the thieves fled with cash, jewelry and other items.

Two suspects have been arrested and a police complaint has been filed, noting the violent attack and its aggravating anti-Semitic nature.

The European Jewish Congress (EJC) expressed shock and horror over the brutal assault, saying that "once again, Jews have been violently targeted and attacked."
'Open season' on Jews in France
"Unfortunately," said EJC President Dr. Moshe Kantor, "it appears that it is 'open season' on Jews in France following so many recent violent attacks against Jews and Jewish institutions going all the way back to the brutal torture and murder of Ilan Halimi.

"We call for the issue of anti-Semitic attacks to be placed at the forefront of the French government's agenda and it requires an immediate response and plan of action to rid France of this scourge and allow Jews to feel safe once again," he added.

The EJC called on police and public authorities in France to swiftly arrest all the perpetrators and bring them to justice, as well as to enhance security at Jewish institutions and to protect the Jewish community.

"The response has to be reactive but also pro-active and we call on the French authorities and law enforcement agencies to get to the root of the problem and that is the spread of incitement against Jews which provides the impetus for thugs like these to believe that Jews are deserving targets," Dr. Kantor said.

"The greatest right is the right to life and security, this right is being deprived of more and more Jews who are growing ever more fearful that they do not have the same freedoms as other French citizens.

"This should be an intolerable situation for French authorities and we hope it will be remedied as soon as possible."