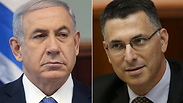 Sa'ar will run; Netanyahu: The left has united us
Photo: Alex Kolmonski
Former interior minister and Likud strongman Gideon Sa'ar has announced that he will not challenge Prime Minister Netanyahu for the leadership of the Likud, thus ending speculations he would try to oust Netanyahu from his own party before Israel goes to elections this March.

At a Likud party meeting shortly after Sa'ar's announcement, Prime Minister Benjamin Netanyahu did not directly comment on Sa'ar, but said he now enjoyed the party's full support and expects to take both the primaries and the national election.

Writing on his Facebook page, Sa'ar wrote "in recent days I recived numerous calls to run from friends within the movement and citizens… In light of the circumstances born from my departure (from the Likud) and after considering my options, I have decided not to run for the Likud chairmanship – at least for now."

Netanyahu spoke at the party's central headquarters afterwards, saying: "Who will lead the country? The leftist leaders who are multiplying or me? We know the answer," he said. "The left has united us. There is a massive, unprecedented media campaign that supports any politician who opposes my campaign."

Related stories:

Last night the Likud voted to hold early primaries, in a move which was seen as Prime Minister Benjamin Netanyahu attempt to respond to the possibility that popular politician Sa'ar may challenge him for the leadership.

Pushing up the primaries has been seen as a measure to thwart Sa'ar attempt to unseat Netanyahu. According to a Channel 10 poll published on Tuesday, Sa'ar would receive an equal number of seats as Netanyahu.

Earlier representatives of the new Kulanu Party, headed by former Likud minister Moshe Kahlson filed with Registrar of Political Parties Unit, thus officially registering the party ahead of elections.

Sources in the party denied reports that they have been holding talks to unite with Yesh Atid and Yisrael Beiteinu.

The election has already led to an interesting mergers: After being heavily courted by both Labor and Yesh Atid – and in the wake of several surveys predicting Hatnua will not receive enough votes to pass the threshold – faction chief Tzipi Livni announced she will join forces with Labor ahead of the 2015 elections.