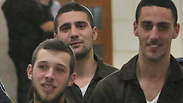 The suspects charged with torching the bi-lingual school. (Photo: Gil Yohanan)
Judea and Samaria District Police raided Tuesday morning the houses of ten operatives in the anti-assimilation, anti-coexistence "Lehava" organization, including the residence of organization chairman, Bentzi Gopstein.

The ten were arrested on suspicion of incitement and calls to commit racist violence and terrorism.

Indictments were issued Monday against three of the group's members for allegedly setting fire to the bi-lingual school in Jerusalem two weeks ago.

Police described the investigation as elaborate, whose covert phase ended with the arrests. In addition to Gopstein, a resident of Kiryat Arba, operatives were arrested across Israel, including in the cities of Petah Tikva, Netivot, and Jerusalem.

The ten suspects were to be brought Tuesday morning to Jerusalem's Magistrate Court for a hearing on extending their remand.

Gopstein's lawyer, Itamar Ben Gvir, claimed that extensive damage was done to his client's home during the police search. Ben Gvir further claimed that the arrest was politically motivated. "The politicians from the left applied pressure for the police to act against Lehava, even though it's clear to them that this is a law-abiding organization openly acting against assimilation," he said. "This is a disgrace."

Monday's indictment accused Yitzhak Gabai of Jerusalem and brothers 20-year-old Shlomo and 18-year-old Nahman Twito, both of the ultra-orthodox West Bank settlement Beitar Ilit, of setting fire to the school late last month and writing racist slogans on its walls. Gabai was additionally charged with driving without a license and possession of a knife.

The indictment said the three decided to set fire and spray slogans on the school's walls after they discovered that a ceremony in memory of Yasser Arafat was held in the school several weeks earlier – an allegation denied by the school principal.

Hundreds of protestors gathered Saturday evening in Jerusalem, calling to outlaw the organization.