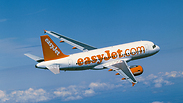 easyJet. Ninth destinations from Tel Aviv
British low-cost airline easyJet, the second largest foreign airline in Israel, has announced its plan to operate a new route from Tel Aviv to Paris starting March 30 following an agreement signed with the French Civil Aviation Authority.

The airline will offer three weekly flights between the Ben-Gurion and Charles de Gaulle airports on Mondays, Wednesdays and Saturdays. The starting fare for a one-way ticket from Tel Aviv to Paris is €45.99 (about $57), including taxes.

Consumer Victory

Following a successful consumer protest, Café Café chain wins Israel Airports Authority bid to sell cappuccino and croissants for only NIS 11.90 starting January 1, 2015.

The new route will become easyJet's ninth destination from Tel Aviv and will enable it to fly more than half a million passengers a year into and out of Israel on 37 weekly departures, the company said in a statement.

"The French capital is a fantastic destination to add to the easyJet network from Tel Aviv and this service will offer affordable, convenient connections for those travelling on business, leisure or simply visiting friends and relatives," said easyJet commercial manager Neil Slaven.

"Furthermore, the introduction of this service reiterates easyJet's commitment to Tel Aviv and our intent to continue offering Israeli passengers the destinations they want.

"Placing this route on sale, enables us to continue to expand our choice of routes for customers and we look forward to the operation of our first flight in spring 2015 and to further investment in Israel beyond this."

easyJet is one of the strongest low-cost players in the global aviation industry. In Israel, the company offers flights for starting fares of €65 to Berlin and London's Luton Airport and €52 to Rome.

While easyJet has become very popular among the Israeli and international audience, another low-cost company, Wizz Air, recently reduced its activity and has cut flights to Israel.